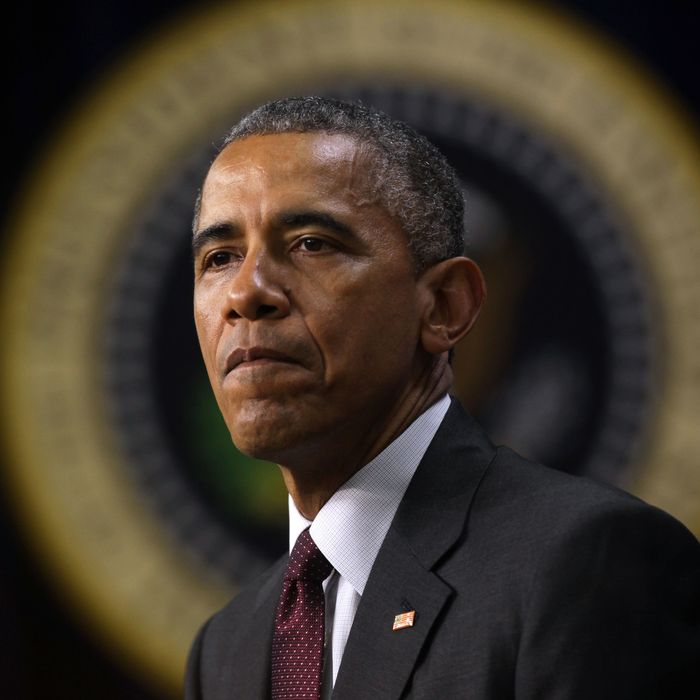 Barack Obama's legacy takes another hit, this time from a judge he placed on the federal bench.
Photo: Alex Wong/Getty Images
Four million Americans got some bad news from Texas today that didn't involve floods. A federal judge struck down an Obama-administration ruling that would have significantly expanded eligibility for overtime pay.
In the ruling, first reported by Bloomberg, the judge wrote that the agency improperly looked at salaries instead of job descriptions when determining whether a worker should be eligible for overtime pay …




The rule would have required employers to pay overtime to most salaried workers who earn less than $47,476 annually, a sharp increase from the current annual salary limit of $23,660.
The Labor Department rule the judge invalidated was based on the gradual erosion of overtime pay by employers who avoided it by classifying more and more employees as managers, along with the weakening of the threshold for automatic eligibility by inflation. If Obama were still president, or if he had been succeeded by Hillary Clinton, there would be an aggressive appeal of this decision, or perhaps a redrafting of the rule to meet the judge's objections.
Unfortunately for the affected workers, the Trump administration is very unlikely to lift a finger to restore the rule. So while an appeal from other quarters is possible, we're not likely to see the Labor Department try to put something similar in place.
In case you were wondering, the judge who made this decision, Amos Mazzant, was placed on the federal bench by Barack Obama. But it comes as less than a surprise, since Mazzant stopped implementation of the new overtime rule late last year pending judicial review. So no one is losing anything they had, except for that phantom time-and-a-half 4 million people might feel they are missing.