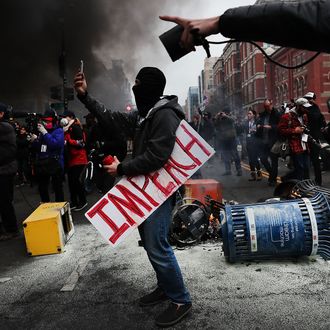 A Disrupt J20 disrupts January 20.
Photo: Spencer Platt/Getty Images
On Monday, the Department of Justice indicated in a court filing that it was dropping its request for data on the 1.3 million users who had visited disruptj20.org, a website used to plan protests for this past January's inauguration. Initially, government lawyers had sought data on visitors such as the times and dates of their visit, and metadata about their web-surfing software from DreamHost, the hosting company serving the website.
This week's court filing stated that the Department of Justice had "no interest in records relating to the 1.3 million IP addresses." It continued, "The government values and respects the 1st Amendment right of all Americans to participate in peaceful political protests and to read protected political expression online. This warrant has nothing to do with that right." Investigators continue to seek information on the planning and execution of the protests, however.
In an emailed statement, DreamHost counsel Raymond Aghaian said, "The government has now withdrawn entirely its unlawful and highly problematic request for any data relating to the visitors of the website and any unpublished data subject to the Privacy Protection Act," and added, "This is a tremendous win for DreamHost, its users and the public. There remains, unfortunately, other privacy and First and Fourth Amendment issues with the search warrant, which we will address in a separate filing and at the hearing Thursday morning."