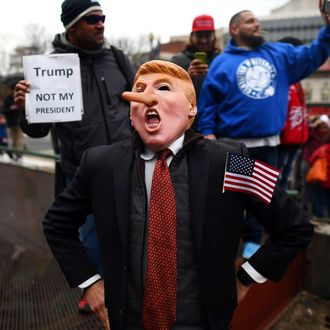 Photo: Jewel Samad/AFP/Getty Images
Web-hosting service DreamHost announced this week that last month, it received a warrant from the Justice Department. The warrant requested IP addresses and related metadata of more than 1 million users who visited disruptj20.org, a website used to organize Inauguration Day protests, this past January.
Among the data demanded by the warrant for more than 1.3 million web surfers are the dates and times of their site visits, as well as technical information such as web browser and operating system. This is, DreamHost says, "in addition to contact information, email content, and photos of thousands of people."
The information acquired by the warrant, an aggressive overreach by the federal government, could be used against anyone involved in anti-Trump activity. Calling the warrant a "fishing expedition" and "digital dragnet," the Electronic Frontier Foundation, a fierce privacy advocate, described the data request as unconstitutional.
DreamHost plans to fight the order. A hearing on it is scheduled for this Friday. In the meantime, maybe subscribe to a VPN.