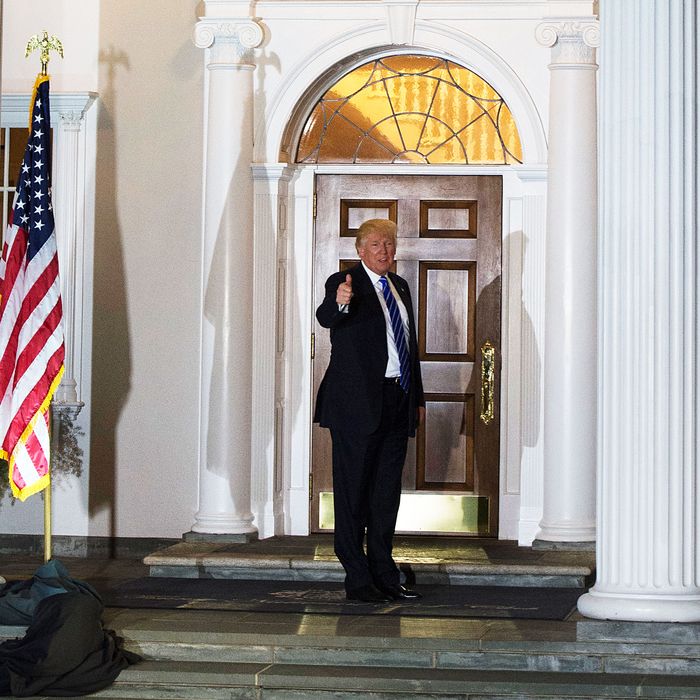 Trump at his golf club, but not on vacation.
Photo: Don Emmert/AFP/Getty Images
In the summer of 2011, after he'd already decided to sit out the following year's presidential election, Donald Trump tried to bestow a nickname on President Obama in a move that foreshadowed one of his favorite tactics during his own campaign. But unlike "Crooked Hillary," "Little Marco," and "Lyin' Ted," Obama's nickname, "The Habitual Vacationer," didn't quite take off.
Often referred to as a branding genius, Trump tweeted the phrase six times in November and December of 2011. Then he gave up. He would not, however, stop attacking Obama for his vacations, an obsession that looks mighty silly now that Trump prepares to take his first official vacation from the White House. On Friday, Trump will leave Washington for a 17-day stay at his golf club in Bedminster, New Jersey. Other than duration, it's unclear what distinguishes this trip from the many he's already taken to Trump National Golf Club and his Florida resort Mar-a-Lago.
There is, of course, nothing wrong with a president taking vacation, particularly in August, when Washington becomes a bowl of hot soup. The West Wing is also having its heating-and-cooling system replaced this month and, the AP notes, many other repairs are taking place. Combine all that with Trump's ever-agitated state, and it's hard to blame the guy for wanting a breather.
That is, until you remember the time he told Larry King "most of the people I know that are successful really don't take vacations." And the time he said government money spent on Obama's vacations was harming efforts to stem illegal immigration. And the time he wrote these words in his book.
Even after all that, it's probably not fair to blame Trump for wanting a vacation. It is, however, fair to blame him for being an astonishingly unapologetic hypocrite.