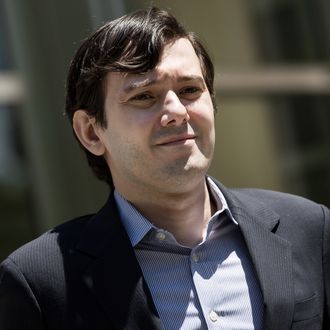 "So innocent" Shkreli found guilty.
Photo: Drew Angerer/Getty Images
Martin Shkreli, the 34-year-old pharmaceutical CEO notorious for hiking up the price on a lifesaving HIV drug and for being generally unbearable, has been convicted of fraud. A jury found Shkreli guilty on three of the eight charges he faced, including securities fraud and conspiracy to commit securities fraud. The case was unrelated to the price-gouging scheme as CEO of Turing Pharmaceuticals that made him infamous. In this case, prosecutors alleged he lied to and defrauded investors in two hedge funds he managed between 2009 and 2014, and then bilked millions from a biotech firm he founded to pay back those investors.
"This was a witch hunt of epic proportions," Shkreli said outside the courtroom, after he heard the jury's decision. "They may have found some broomsticks."
Friday's verdict concludes a five-week trial trial in Brooklyn federal court that began with struggles to pick an unbiased jury and ended with a five-day jury deliberation. Shkreli did not testify at his own trial, and was eventually ordered by the judge to stop talking about the case after he called the prosecution "junior varsity." Shkreli said before the trial started that he was "so innocent, the jury, judge and the prosecution are gonna give me an apology."
Unfortunately for Shkreli, his prediction turned out to be false, and he can look forward to facing up to 20 years, though he will likely get a much lighter sentence, blessedly, at least, for his future cellmates.