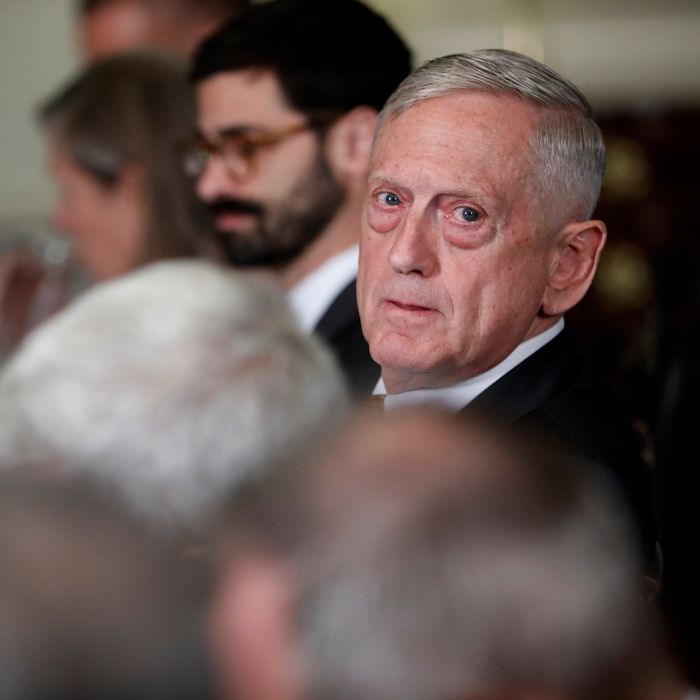 Mattis.
Photo: Aaron P. Bernstein/Getty
In a seemingly off-the-cuff pep talk, Secretary of Defense Jim Mattis told a group of U.S. soldiers to "hold the line" while the U.S. works out its problems back home.
Footage of the remarks was first flagged by Defense One's Kevin Baron. It was posted to a Facebook page called "U.S. Army W.T.F. Moments."
The video shows Mattis in what appears to be an impromptu visit to troops at an unknown location — Baron speculated it was Jordan, which was one of three countries Mattis visited in the last week.
"For those of you I haven't met, my name's Mattis," the general tells an enthusiastic group of young soldiers. He proceeds to deliver a stirring address about the importance of their service. "The only way this great big experiment you and I call America is gonna survive is if we've got tough hombres like you," he says.
Later, he says, "You're a great example for our country right now. It's got some problems. You know it and I know it. It's got problems that we don't have in the military. You just hold the line, my fine young soldiers, sailors, airmen, marines, you just hold the line until our country gets back to understanding and respecting each other."
"Hold the line" was also the central theme of Mattis's speech to West Point graduates earlier this year, one section of which read:
To a high and remarkable degree, the American people respect you. We in the Department of Defense recognize that there are a lot of passions running about in this country, as there ought to be in a vibrant republic.




But for those privileged to wear the cloth of our nation, to serve in the United States Army, you stand the ramparts, unapologetic, apolitical, defending our experiment in self-governance … you hold the line.
It's not clear when Mattis made the remarks in the Facebook video, but if it was in the last week, he was likely referring to the recent violence in Charlottesville, Virginia, and its aftermath.
On Friday, Mattis found himself thrust into the culture-war spotlight when President Trump gave him significant latitude in how to carry out the president's ban on transgender soldiers in the military.