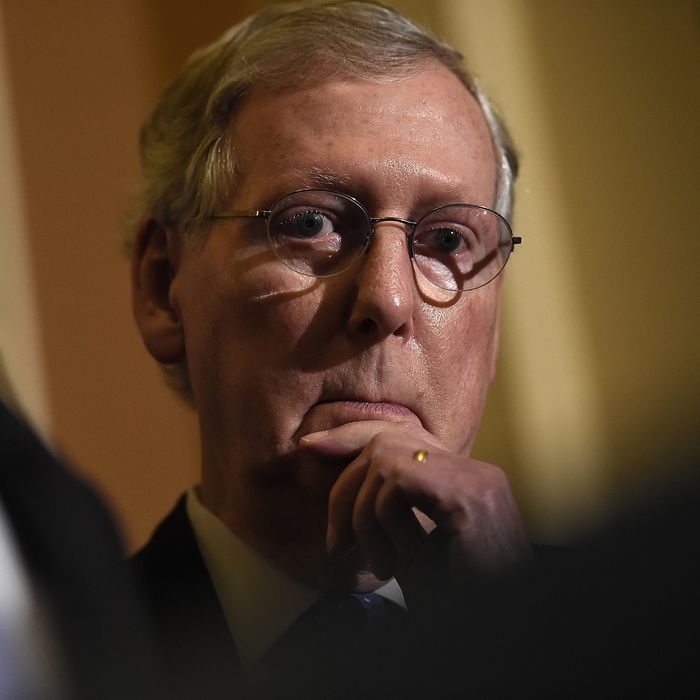 It burns!
Photo: Win McNamee/Getty Images
After Susan Collins, Lisa Murkowski, and John McCain shattered his dream of taking away health insurance from millions of Americans, Senate Majority Leader Mitch McConnell is facing a horrifying new reality: He may need to work with Democrats to stabilize Obamacare.
Over the weekend, McConnell acknowledged that harsh truth — sort of — when he told reporters in Kentucky that he could imagine working with senators across the aisle to help shore up health insurance markets.
"If the Democrats are willing to support some real reforms rather than just an insurance company bailout, I would be willing to take a look at it," McConnell said. He also maintained there was "still a chance" Republicans could yet repeal Obamacare, while admitting that the chances are fading every day.
It's unclear what McConnell means by "real reforms." If they involve any of the provisions in his "skinny repeal" bill that failed in the Senate, it's unlikely Democrats would want to cooperate.
But it's also unclear just how much leverage McConnell has left on the issue. Since the frenzied attempt to repeal and replace Obamacare died its dramatic death, Democrats and Republicans in Congress have opened discussions about how to shore up the law as a countermeasure to President Trump's master strategy: letting it collapse.
Tennessee senator Lamar Alexander, the chairman of the Senate Health, Education, Labor and Pensions Committee, along with his Democratic counterpart, Washington's Patty Murray, have announced bipartisan hearings in September to address struggling health-care exchanges. And in the House, representatives Tom Reed of New York and Charlie Dent of Pennsylvania worked with Democrats to introduce legislation that would help fund vital cost-sharing subsidies, which Trump has threatened to cut off.
Most Republicans aren't involved with these efforts, and getting any bipartisan legislation through Congress would be a heavy lift. But even a hint of cooperation is a significant departure. Since Obamacare went into effect, GOP lawmakers have almost uniformly ignored the kind of fixes that could make the law function better. They have instead let problems — like unstable marketplaces — fester in an effort to prove their unshakable opinion that the law is a catastrophe, paving the way for its repeal.
But now, with that possibility likely out of the picture, McConnell faces a dilemma. Though the marketplaces are not in a death spiral, as Trump and Paul Ryan would have the public believe, they need significant patching up. McConnell knows that if exchanges collapse or insurers raise prices out of uncertainty, voters will likely punish Republicans, not Democrats, in 2018. So he can face reality and improve the law he so loathes, or continue to push for an increasingly quixotic repeal.
Suffice it to say, this isn't the sort of decision he was hoping to make in August 2017.