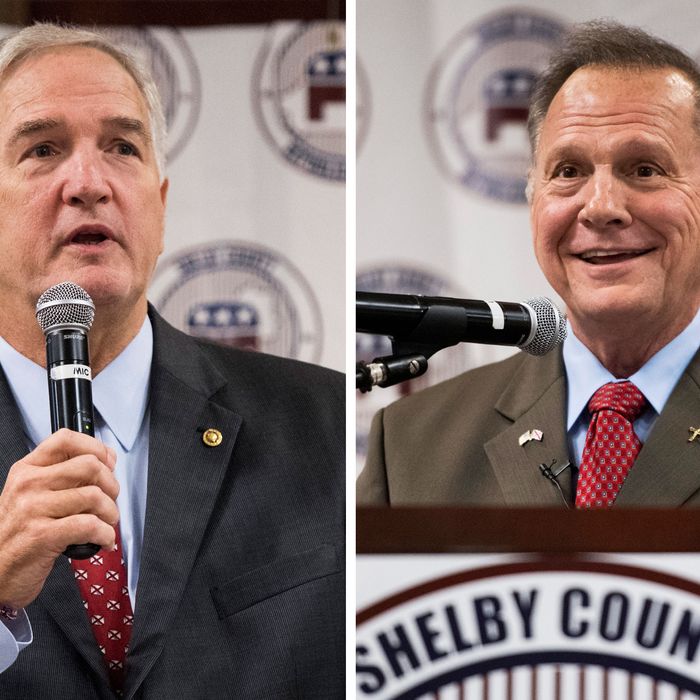 The appointed incumbent limped into a runoff by leading Representative Mo Brooks, while the "Ten Commandments Judge" showed impressive statewide appeal.
Photo: Bill Clark/CQ Roll Call
In an impressive show of his statewide appeal to conservatives, Judge Roy Moore seems sure to finish first in tonight's Alabama's special GOP Senate primary to fill Attorney General Jeff Sessions's old seat. But Moore will now face appointed senator Luther Strange in a September 26 runoff where the incumbent will have a big financial advantage and the backing of President Trump.
It was not a particularly good sign for Strange's popularity that his (or rather Mitch McConnell's super-pac's) domination of the Alabama airwaves and late endorsement from Trump earned him no more than second place in a very low-turnout contest — though he did win a runoff spot with a decisive edge over Representative Mo Brooks, who at one point in the campaign seemed poised to knock "Big Luther" right out of the top two. In retrospect, Brooks's effort to pose as the pro-Trump candidate facing a pro-McConnell "swamp" candidate in Strange was really screwed up by Trump's surprise endorsement of his rival.
Meanwhile, while Moore echoed Strange and Brooks in singing hymns of praise to Trump, he posted his best performance yet in a non-judicial race thanks to his own virtually universal name ID and a reputation for principled probity (wrapped tightly in a theocratic commitment to defy all princes, principalities, and federal judges, at the price of being removed once and suspended once as chief justice of the state Supreme Court). With more than three-fourths of the vote in, Moore was leading Strange by a 40/32 margin, with Brooks at 20 percent. The "Ten Commandments Judge" (in honor of the courthouse monument to the Decalogue he erected, which cost him his gavel the first time around) was winning all but six of the state's counties.
But Strange will probably begin the runoff as the favorite. He will continue to enjoy financial backing from McConnell's wealthy friends and the moral support of Trump, whose current embattled defense of neo-Confederate monuments will only enhance his wild popularity among Alabama Republican voters. Moreover, you can expect Alabama business interests to help Strange out of fear that Judge Roy's teeth-grinding theocratic posture won't exactly enhance the state's image as an economic development site and tourism destination.
Alabama's Democratic minority dodged a bullet today as the consensus party favorite for the Senate nomination, former U.S. Attorney Doug Jones, easily dispatched obscure but fortunately named candidate Robert Kennedy Jr., without a runoff. It's hard to imagine a Democrat winning a statewide race in Alabama at the moment, but Roy Moore might be beatable, and a vicious Moore-Strange runoff could soften up the GOP more generally.