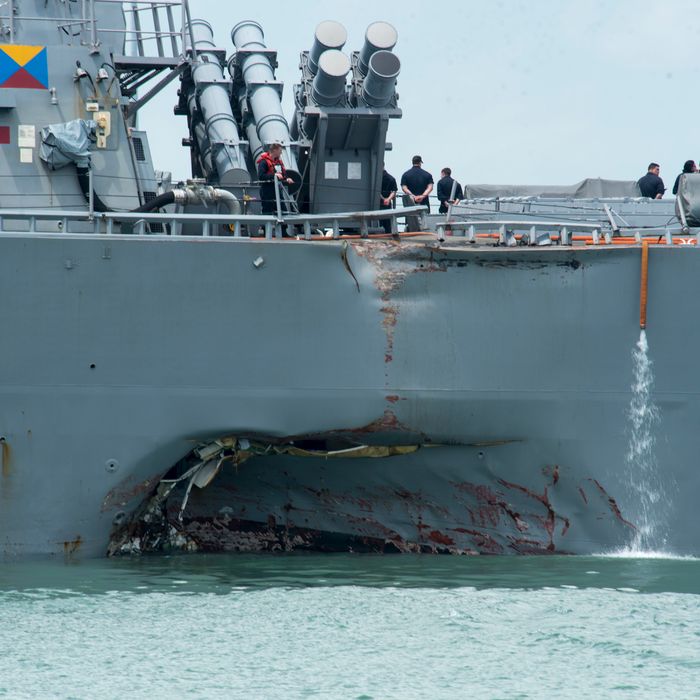 The damage to the U.S.S.
John S. McCain
.
Photo: U.S. Navy/Getty Images
All United States Navy ships will take a one- or two-day "operational pause" this week to review safety procedures and other fundamentals after the U.S.S. John S. McCain collided with an oil tanker off the coast of Singapore on Monday. Defense Secretary James Mattis said the aim is to "determine any of the causal factors, to determine what's going on — both immediate contributors to this incident but also any related factors."
The chief of naval operations, Admiral John Richardson, said that in addition to the brief review this week, he's ordered a months-long review of the Navy's Seventh Fleet. There have been four accidents involving Navy vessels in the Pacific this year, including the U.S.S. Fitzgerald's collision with a container ship, which left seven sailors dead.
The cause of Monday's accident is still unknown, but a navy official told CNN there are signs that the destroyer lost steering just before the collision.
U.S. military divers have found some remains belonging to the ten missing sailors in the flooded areas of the destroyers, the New York Times reports. Admiral Scott Swift, the commander of the Pacific Fleet, declined to say how many bodies have been recovered. Swift added that the Malaysian navy had also discovered a body in the sea, but it's not clear whether it's tied to the McCain collision. Planes are still searching the surrounding waters, but the new area of focus was a discouraging sign for the missing sailors' loved ones.
Megan Partlow of Ohio, whose fiancé is missing, told the AP she's losing hope of seeing him again. "My last text to him was 'be safe,' which is the same way we end every conversation. I'm just ready for answers," she said.