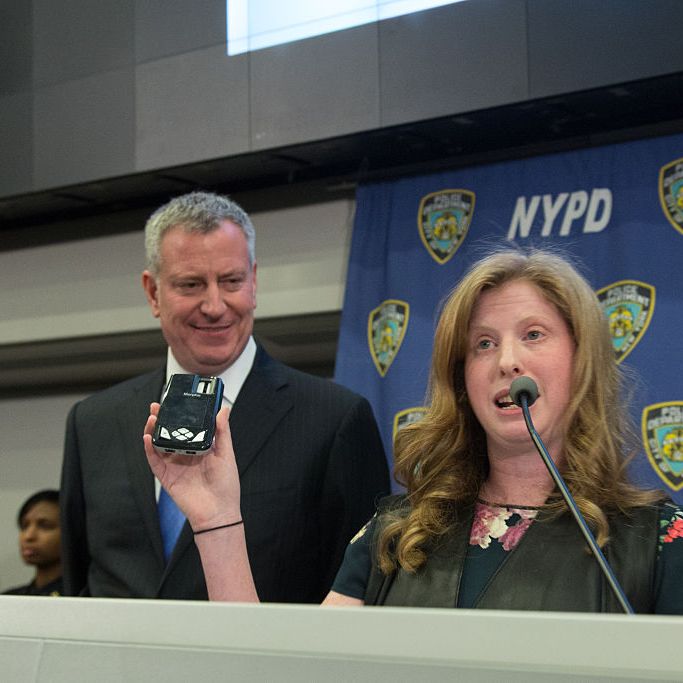 Mayor Bill de Blasio and NYPD Deputy Commissioner for Information Technology Jessica Tisch in 2016, showing off their plan for new Windows phones.
Photo: Pacific Press/LightRocket via Getty Images
Nobody wants a Windows phone. Including, it seems, the NYPD.
The city's police force will be tossing around 36,000 Nokia Windows phones, due mainly to the fact that Microsoft itself has decided to stop supporting the phones. Windows phones control less than one percent of total U.S. market share — a number that will drop even further with the NYPD abandoning them.
Per the New York Post, the blame for the choice to go with Windows mobile phones is being placed at the feet of NYPD Deputy Commissioner for Information Technology Jessica Tisch, who announced the rollout of the Windows phones in 2016. Tisch insisted on using Windows phones because Microsoft software was already being used to run video surveillance at the lower Manhattan Security Initiative Command Center. Even when the plan was announced in 2016, the two phones being brought onboard weren't top-of-the-line: The Lumia 830 was released in October 2014, and the Lumia 640 XL hit the market in March 2015.
Following the Post story, Tisch responded in a blog post on the NYPD website, pointing out a fact that the Post didn't — the NYPD contract "provided for the smartphones at no cost," and "allowed for the NYPD to replace the smartphones with devices of our choosing two years later, also at no cost." She continues:
We have since continually reviewed the evolution of mobile platforms. A year ago, we learned that improvements in Apple controls would allow NYPD to responsibly and cost effectively move our mobility initiative to the Apple platform. We began plans to make the transition, which will take effect this fall.




Our smartphone initiative is 45% under budget. Based on current rate of spending, we expect to stretch what was initially budgeted at two years of spending to more than four years.
Purely anecdotally, most NYPD officers I've seen using smartphones have used either iPhones or Android devices — but I've never had the wherewithal to approach a cop and ask if their phone is government-issued or not.
This post has been updated to include Jessica Tisch's response to the Post article.