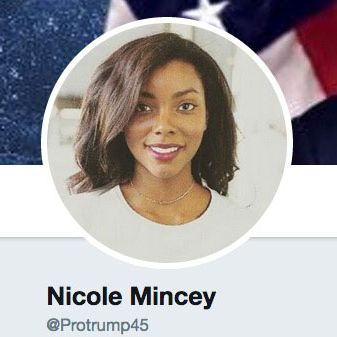 Over the weekend, President Donald Trump thanked a fan of his on Twitter with the handle @ProTrump45, an account that appeared — at first glance — to belong to an African-American woman named Nicole Mincey. But this is Twitter, and this is Donald Trump, and this is 2017, and nothing is ever quite as simple as you might hope.
To start with: As many people quickly noted, the avatar for the account was taken from the website of a stock-photo company. And the website linked from the account, protrump45.com, is an online store for Trump-related merchandise concerning our president.
This combination — of mysterious and stolen stock photo and bald cash grab — understandably garnered suspicion. How did a low-rent unofficial-merch store like ProTrump45 gain the attention of the U.S. presidency? (Occam's razor: Our president is a doofus.)
Interestingly enough, this wasn't the first time ProTrump45, or Mincey, had garnered media attention. The Daily Caller ran a "story" that consisted of Mincey's promotional copy in early June, though the post has since been updated with a note that reads, "The advertiser story below might be completely fake, but their deals are 100% real! Get your Trump swag while you can!"
Built on a DIY website service called Wix, ProTrump45 sells familiar (but not official) #MAGA apparel. "This is the perfect store built by a trump supporter for trump supporters," the site's poorly worded "About Us" section reads. "Donald J Trump is the 45th president of the United States and he represents conservative and middle america."
Why would conservative media be so interested in a ramshackle web operation like Mincey's? Her copy gives a clue: "ProTrump45 and Nicole are beautiful representations of black Republicans and overall minority conservatives," it reads, in part. "She steps outside of the liberal narrative that every Trump supporter is an old angry white man."
Someone pretending to be Mincey had also called into at least one radio show to discuss politics and her business.
What happened here? The president had retweeted an account using a fake photo with a clear profit interest in publicity. A narrative quickly and understandably coalesced around the idea that @ProTrump45 was a "bot" and that Mincey was a fictional character.
"The curious case of 'Nicole Mincey,' the Trump fan who may actually be a Russian bot," reads a Washington Post headline. "Trump Retweets Supporter Who Is Young, Black and Fake," wrote the Wrap. "Trump retweeted a Twitter bot — then it got suspended," Business Insider said (the account was suspended after it tried to sell the @ProTrump45 handle and its 146,000 followers shortly after the president's endorsement). "Twitter Has Suspended Some Fake Accounts After President Trump Thanked a Bot for Support," Uproxx wrote. The Independent Journal Review, which devotes most of its White House coverage to aggressive bootlicking, put a lighter spin on it: "Trump Retweets 'Supporter' Who Turns Out to Be Stock Photo of Nice Young Black Lady."
There's just one problem: Even cursory web-sleuthing would have revealed that there is, in fact, a real Nicole Mincy (no E) — a black woman in New Jersey — and that, as shared addresses showed, she was involved in the ProTrump45 operation. Her Facebook and LinkedIn accounts are just a few well-crafted search queries away. Her university's mailing address was included on a press release announcing the online store. A phone number on the press release was linked to both the @ProTrump45 Instagram account and Mincy's personal Snapchat account. Someone intent on stealing Mincy's identity would have had to have had access to her phone or SIM card to link her Snapchat and Instagram to that phone number. Mincy likely helped run this business, used a stock-photo avatar, and is now denying it.
So President Trump hadn't tweeted a bot at all: He'd tweeted the praise of a supporter who worked with or owned a pro-Trump store. It was odd that Mincy was using a stock photo for her avatar instead of a real photo of herself — but there are weirder things on Twitter than people using photos that are not themselves. (Mincy did not respond to phone calls yesterday.)
Only, as soon as everyone seemed to recognize that the woman wasn't a bot, the story got more complicated. Mincy, reached by reporters at Heavy.com, denied running the store, claiming that her identity had been co-opted and that she planned to file a report with the police. Then, yesterday, she told Daily Beast that she was one of about ten people running the operation. According to her, "The group reached out to Nicole in January through her Instagram, where she had been posting pro-Trump memes and the occasional picture of herself. It was a woman named Lorraine, specifically, who asked her to join ProTrump45's blog." Mincy claims she dropped out of the group when she saw that they were using her name without her permission on Twitter.
It gets even more complicated from there. Daily Beast reporter Ben Collins was unable to speak with any of the other members of the group Mincy claims exists, and there is some circumstantial evidence that Mincy's own evidence of her communications with the group was forged.
So, okay, that's about as much context as we actually have. The question is: Did President Trump retweet a "bot"? No. Did he retweet a "real person"? Well, hmm, not really. Probably the most accurate thing we can say at this point is that President Trump retweeted a fictionalized character being used by the marketing arm of a fly-by-night e-commerce operation to publicize its shoddy Trump merchandise. In other words, he retweeted a "brand."
The obsession with social-media meddling has made it so that those opposing Trump online see enemies and nefarious plots where none exist. Six months ago, "fake news" was the bête noire of the online resistance — a category that unhelpfully collapsed the distinctions between actual for-profit hoax sites, partisan news organizations, and dumb idiots who didn't know better either way. "Bots" now serves the same purpose, encompassing within it actual bots (automated programs like those designed to have the top replies to Trump), Twitter accounts run by real humans with ulterior geopolitical motives, obsessive pro-Trump Twitter accounts run by American voters, normal people who use avatars that are not their faces, and … whatever it is that "Nicole Mincey" was.
Yesterday morning, House of Cards' showrunner tweeted, separate from the Mincey affair, "Hey @jack @Twitter, would be great if one of the report options was 'Suspected Bot.' They're easy to spot. Let us help you get rid of them." I'm not quite sure anyone is up to the task.