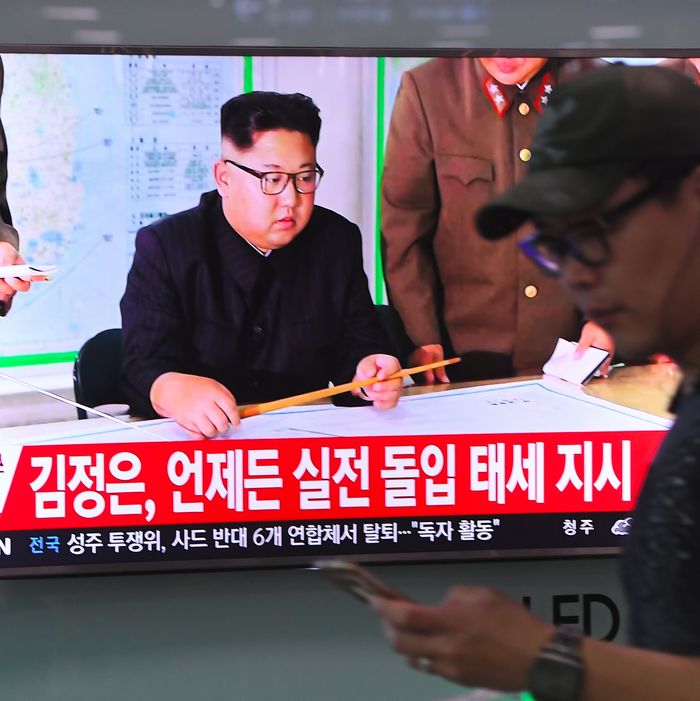 Remember this guy?
Photo: JUNG YEON-JE/AFP/Getty Images
As you may recall, a few days ago the primary focus of our political discourse was the possibility of nuclear war with North Korea, not the increasingly brazen actions of white supremacists. Thankfully, the former nightmare scenario has deescalated for the time being.
North Korea announced on Tuesday that, as promised, its military presented leader Kim Jong-un with plans to fire missiles into the sea near the U.S. territory of Guam. According to North Korea's state-run news agency, while inspecting his army's Strategic Forces, Kim praised his military for drawing up a "close and careful plan," but said he would watch the "foolish and stupid conduct of the Yankees" before deciding whether to go through with it.
This means that rather than continuing to engage in a dangerous war of words with President Trump — who, thankfully, has yet to deliver on his promise to respond to any North Korean threat with "fire and fury" — Kim does not plan to provoke the U.S. by firing missiles in Guam's general vicinity.
However, the report claimed that North Korea may still attack, quoting Kim as saying, "If the Yankees persist in their extremely dangerous reckless actions on the Korean Peninsula and in its vicinity, testing the self-restraint of the DPRK, the [North] will make an important decision as it already declared."
While President Trump initially responded to the outcry over his off-the-cuff threat by saying he "maybe wasn't tough enough," on Monday he dialed things back as well. During a meeting with President Moon Jae-in of South Korea, General Joseph Dunford, the chairman of the Joint Chiefs of Staff, reiterated that military options would only be used against North Korea as a last resort. Then while announcing his administration's trade action against China — which only amounted to authorizing the U.S. Trade Representative to consider whether to probe Beijing's alleged theft of U.S. intellectual property — President Trump mentioned China by name just once. Meanwhile, China took steps to begin complying with the U.N. sanctions against Pyongyang that were unanimously passed earlier this month.
So it appears that, for now, the situation in Asia has settled down. But Stephen Noerper, a Columbia University political-science professor and senior director at the Korea Society, told The Wall Street Journal that with joint military exercises between the U.S. and South Korea set to begin next week, things could easily ramp up again.
"I don't think we should overassume," he said. "The escalatory nature of things on the peninsula are that you can go from zero to 10 very quickly …This could get very hot again."