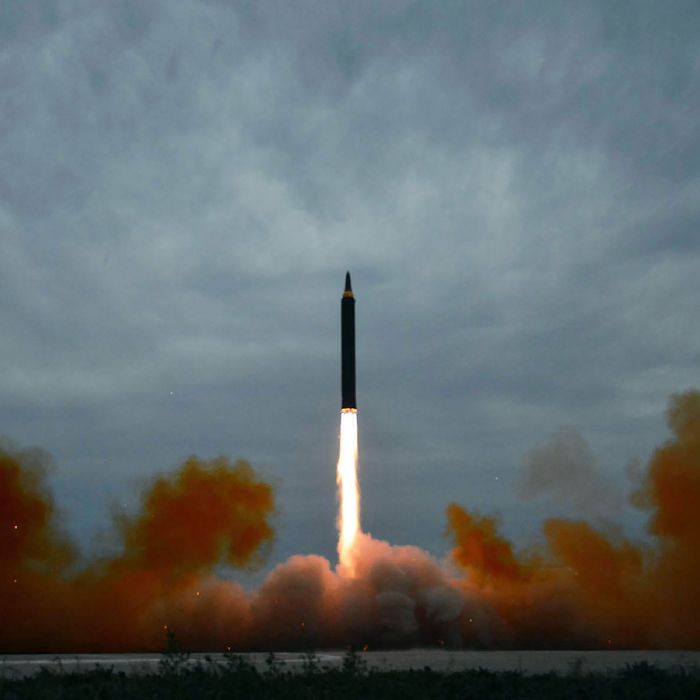 Tuesday's missile launch near Pyongyang.
Photo: STR/AFP/Getty Images
A day after Kim Jong-un sent a missile screaming over Japan, setting off emergency sirens across the northern part of the island, North Korean state media warned that the launch was a "prelude" to a military operation against Guam.
It's not clear what Pyongyang is threatening to do to Guam, but earlier this month a spokesman for the North Korean army was more explicit with his threat, saying the country was "carefully examining" a strike on the U.S. territory.
Guam's homeland security adviser, George Charfauros, isn't getting very excited about this latest threat. As he told CNN, with ongoing joint military exercises being conducted by the U.S. and South Korea, "we can expect rhetoric and activity in North Korea." And the small Pacific island knows how much North Korea likes to talk. Given its proximity to North Korea and the two U.S. military bases located there, Guam is used to empty threats.
The renewed warning of an impending Guam attack comes after President Trump responded to Tuesday's missile launch by saying "all options are on the table" when it comes to dealing with the North Korean regime.
"The world has received North Korea's latest message loud and clear: this regime has signaled its contempt for its neighbors, for all members of the United Nations, and for minimum standards of acceptable international behavior," Trump said in a statement.
"Threatening and destabilizing actions only increase the North Korean regime's isolation in the region and among all nations of the world. All options are on the table."
He followed that Wednesday morning by tweeting that he's ready to give up on diplomatic efforts to control the country.
Trump did not suggest what he thinks should replace talking. Fingers crossed it's not something that will get millions of people killed.