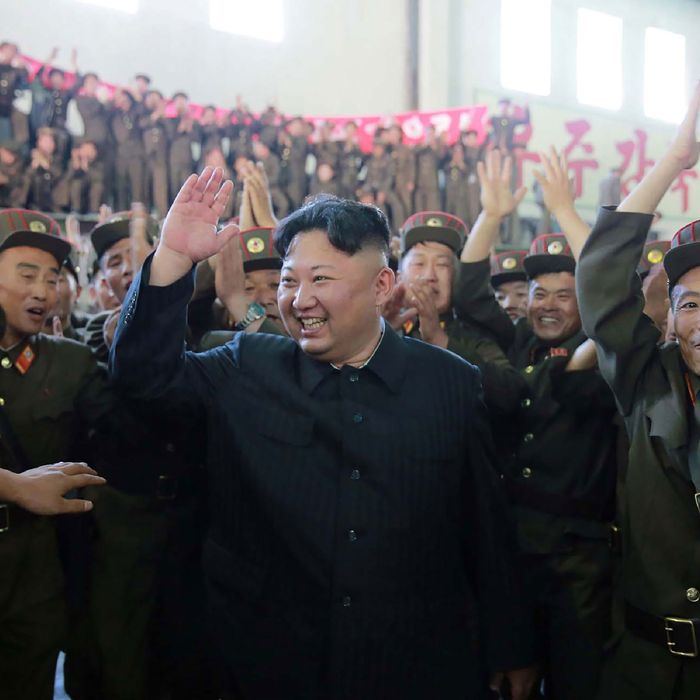 Kim Jong-un.
Photo: STR/AFP/Getty Images
Hours after President Trump paid Kim Jong-un a compliment during his rambling campaign rally in Phoenix, North Korean state media mocked Trump for his "weird" and "ego-driven" tweets. Trump also frequently "spouts rubbish," the state-run KCNA said Wednesday, referring to Trump as "that mad man." So much for that "respect."
Along with the personal attacks, the editorial criticized the joint military drills that the U.S. and South Korea are carrying out this week. "The US should not forget that their opponent is armed with nuclear weapons and ballistic missiles," the agency said. It also warned, "We won't just sit and watch the behaviors of the foolish people whose blood is burning with revenge."
The U.S. has long maintained that the military exercises, which began Monday and happen twice a year, are defensive. Pyongyang doesn't buy it. On Sunday, the state newspaper Rodong Sinmun called the exercises "the most explicit expression of hostility against us." It added, "No one can guarantee that the exercise won't evolve into actual fighting." Dubbed Ulchi Freedom Guardian, the drills involve nearly 70,000 U.S. and South Korea troops but do not include live fire, unlike those that took place in March.
Despite KCNA's sick burn at Trump's expense, there's reason to be slightly optimistic about thawing relations between the two countries. Before Trump said Tuesday that he respects Kim's newfound respect for the U.S., Secretary of State Rex Tillerson praised the North Korean's "restraint." He made the statement after the 26th day that North Korea didn't test a missile. Now it's been 27.