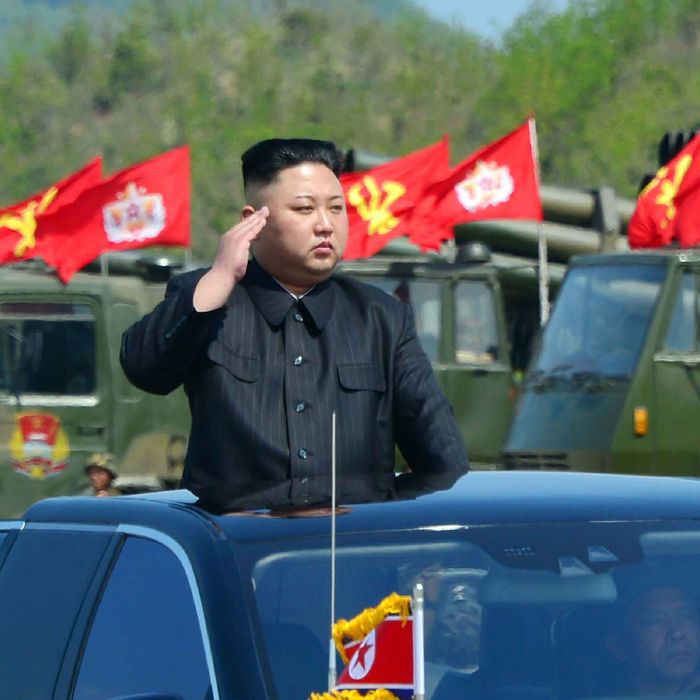 This undated picture released by North Korea's official Korean Central News Agency (KCNA) on April 26, 2017 shows North Korean leader Kim Jong-un attending the combined fire demonstration of the Korean People's Army in celebration of its 85th founding anniversary.
Photo: STR/AFP/Getty Images
North Korea reportedly fired three short-range ballistic missiles Saturday, its first weapons test since the United Nations Security Council unanimously voted to impose harsh new sanctions against the country earlier this month.
The U.S. military officials confirmed the launches from Kittaeryong, on North Korea's eastern coast, but indicated those tests may have faced some setbacks. "The first and third missiles at 11:49 a.m. and 12:19 p.m. failed in flight," Commander David Benham, a spokesperson for U.S. Pacific Command, said in a statement. "The second missile launch at 12:07 p.m. appears to have blown up almost immediately." South Korean military officials said the missiles flew 155 miles before landing in the Sea of Japan.
North Korean leader Kim Jong-un's latest provocation comes weeks after tensions between Pyongyang and Washington reached a fever pitch. President Donald Trump and Kim have traded threats over the past month, with Trump promising to rain "fire and fury" down on North Korea and Kim threatening to blast missiles toward Guam. This ballistic-missile test — North Korea's 12th this year — further dampens hope for any diplomatic solution to North Korea's nuclear-weapons program. The tough U.N. sanctions — supported by China and Russia — were intended to help nudge Kim closer to the negotiating table, but instead, he has again defied the international community.
This post will be updated as more information becomes available.