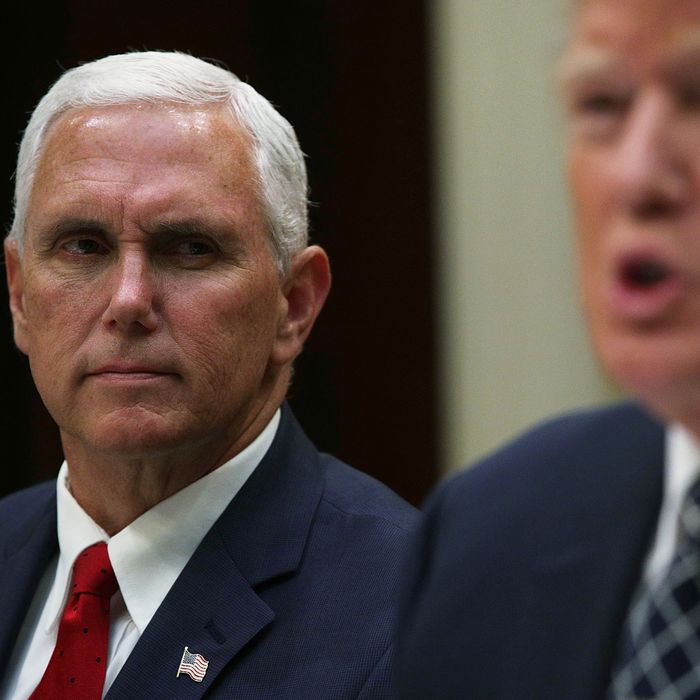 Et tu, Pence?
Photo: Alex Wong/Getty Images
Vice-President Mike Pence is vociferously attacking a New York Times story which reports that he and his staff have been quietly working to make sure that he is well positioned to run for president in 2020 should Trump be unwilling or unable to pursue a second term. That Times report says that in light of Trump's ham-handed start as president, Pence and other prominent Republicans — like Ohio governor John Kasich, senators Tom Cotton and Ben Sasse, and some donors and never-Trump commentators — are already putting together what amounts to a GOP shadow campaign for the White House.
Here is Pence's rather extensive denial of that suggestion, which was likely drafted for the president at least as much as it is for the media:
Today's article in the New York Times is disgraceful and offensive to me, my family, and our entire team. The allegations in this article are categorically false and represent just the latest attempt by the media to divide this Administration. Thanks to the President's leadership, we are rebuilding the military, ISIS is on the run, and we've seen more than 1 million jobs created while the stock market hits all-time highs.




The American people know that I could not be more honored to be working side by side with a president who is making America great again. Whatever fake news may come our way, my entire team will continue to focus all our efforts to advance the President's agenda and see him re-elected in 2020. Any suggestion otherwise is both laughable and absurd.
But according to the Times, while such a suggestion may indeed be laughable, it is far from absurd. They call Pence the pacesetter for the GOP's 2020 prep, and report that he is building a power base independent from Trump's, including a personal fundraising committee which is already out-raising Trump's outside political group. In addition, Pence has strategically made himself the Trump administration's ambassador to the GOP donor class, and hired a campaign operative, Nick Ayers, as his chief of staff instead of a veteran of the federal government like those most vice-presidents typically hire.
The Times says that many in the GOP Establishment, already exasperated with Trump, now openly wish Pence would be the Republican candidate in 2020, and that his aides have been signaling to donors that Pence wants to be ready in case he has the opportunity to run. Meanwhile, the vice-president himself has been "methodically establishing his own identity and bestowing personal touches on people who could pay dividends in the future," both at GOP events and using his official VP residence.
Like Pence, both Ayers and another Pence aide referenced in the story, Marty Obst, deny they are working on any kind of 2020 shadow campaign.
But even if Pence isn't burnishing his 2020 credentials, others may be. The report says that Senators Tom Cotton and Ben Sasse are apparently raising their profiles with donors and policy big shots while also visiting states like Iowa and New Hampshire.
Elsewhere, Weekly Standard editor and never-Trump stalwart Bill Kristol is also looking to spoil 2020, according to the Times, by maybe forming a "Committee Not to Renominate the President." He might have some company from 2016 primary veteran John Kasich, too. The somewhat moderate Republican governor, who has always been a Trump skeptic, has repeatedly declined to rule out a 2020 campaign in interviews and has "indicated to associates that he may run again, even if Mr. Trump seeks another term."
Of course, even rumors of this kind of in-party activity during a president's first term would be unprecedented — let alone actual preparations — but welcome to Donald Trump's America.
Senator John McCain, explaining this kind of willingness to challenge the Trump's future standing, reminded the Times that "it's not a nice business we're in," and some Republicans "see weakness in this president."
And denials from Pence or anyone else aside, what may be a trickle of 2020 preparations now could become a torrent later, should the GOP get its clock cleaned in the 2018 midterms and blame Trump for the comeuppance.