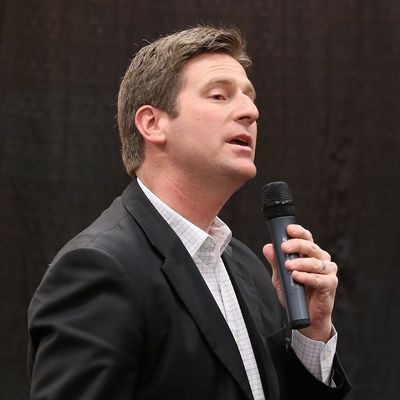 Phoenix mayor Greg Stanton thinks the president is too divisive right now.
Photo: Christian Petersen/Getty Images
Officials across the country are taking action to prevent their city from becoming the next Charlottesville, Virginia, from adding new safety measures for upcoming rallies to covering or removing Confederate monuments. The mayor of Phoenix, Arizona, said on Wednesday that one good way to keep the peace would be delaying a visit from the president.
Hours earlier, President Trump promoted his Phoenix rally, which is scheduled for Tuesday night:
Mayor Greg Stanton, a Democrat, released a statement saying he's "disappointed" that Trump is holding a campaign rally so soon after the violence in Charlottesville, and requesting that he delay the visit. He added that if President Trump is coming to Phoenix to pardon Sheriff Joe Arpaio, who was convicted of criminal contempt for defying an order to stop using racial profiling, "then it will be clear that his true intent is to enflame emotions and further divide our nation.
Politico reported that Trump backtracked his condemnation of the white nationalists who attended the Charlottesville rally because of his "disdain for being told what to do," so this probably won't go well.