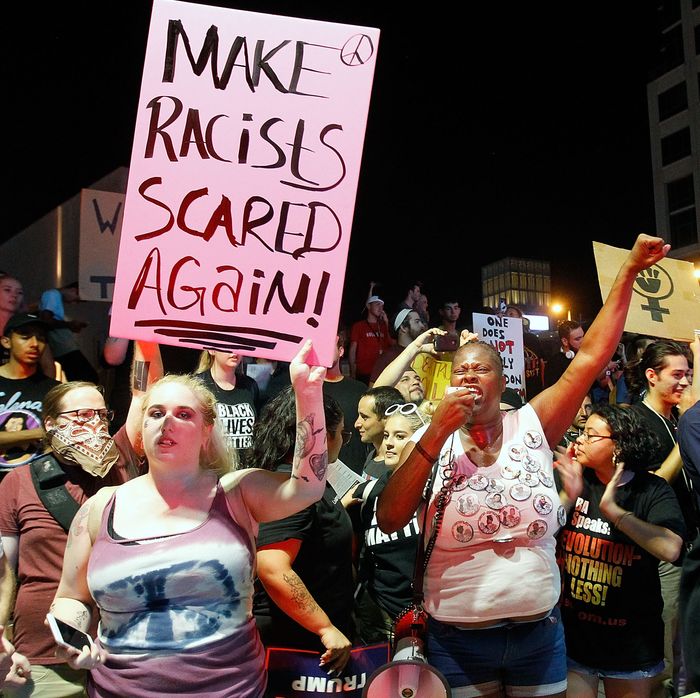 A police officer watches as a crowd protests outside the Phoenix Convention Center on August 22, 2017.
Photo: Ralph Freso/Getty Images
Thousands of people gathered outside the Phoenix Convention Center on Tuesday for a mostly peaceful protest, but after President Trump's divisive speech, the situation became chaotic, with police using gas and smoke canisters to disperse crowd.
Phoenix police said in a statement that people in the crowd were throwing rocks and bottles at officers, and "also dispersed some gas in the area." One eyewitness told the Arizona Republic that he saw people throwing water bottles at police, but other protesters said they saw no provocation from the crowd.
A police helicopter hovered over the crowd, telling protesters to disperse. Officers on the ground said those who did not leave the area would face arrest. People fled the scene, coughing and crying, and journalists broadcast with gas masks on.
For hours before the rally, protesters had peacefully voiced their opposition to Trump, waving homemade signs and chanting slogans. In the 108-degree heat, there were only a handful of altercations between the demonstrators and those showing up for the Trump rally, like when a Trump supporter shouted, "Hey, can I see your papers?" at a flag-waving man wearing an anti-Trump shirt.
The crowd grew so large that some protesters decided to pack into a nearby parking garage.
"I definitely expected it was going to be big," protester Joseph Dick, who was standing on the roof of the parking garage, told CNN. "Usually in Phoenix there's not a lot of movement toward activism but recently it's trending. I think people are really trying to turn the state blue … it's important to show up and represent."