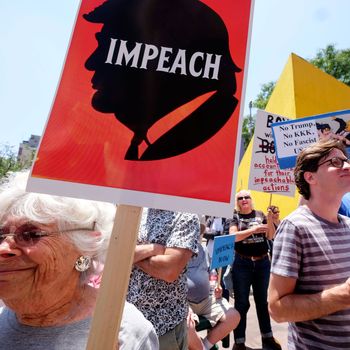 One of many.
Photo: Ringo Chiu/AFP/Getty Images
A new poll shows that support for removing President Trump is building. Four in ten Americans favor Trump's impeachment, according to a survey by the Public Religion Research Institute, up 33 percent from just 6 months ago. And this poll was conducted before his controversial response to the events in Charlottesville.
Unsurprisingly, support for the idea is split along party lines. Nearly three-quarters of Democrats — 72 percent — support impeaching Trump, while only 7 percent of Republicans are onboard. Thirty-eight percent of independents say it's time to remove him from office.
The survey, which was conducted from August 2 to August 8 (the Charlottesville protests were August 11 and 12), found that many more women than men are ready to boot Trump from office. While only 32 percent of men said Trump should be impeached, 47 percent of women said he should go.
As support for Trump's impeachment grows across the country, Democrats in Congress continue to warm to the idea. Some, such as representatives Maxine Waters and Al Green, have been beating this drum for months. But gradually, they're winning over more of their colleagues. Last month, Representative Brad Sherman formally introduced articles of impeachment for Trump's firing of former FBI director James Comey. This week, representatives Gwen Moore and Jackie Speier called for Trump to be removed from office, and Tennessee's representative Steve Cohen announced plans to introduce articles of impeachment based on his defense of neo-Nazis in Virginia.
These Democrats are a long way from their efforts being taken seriously, but as this poll shows, they have the support of the majority of their constituents. And if the trend continues, they'll soon have the support of the majority of the nation.