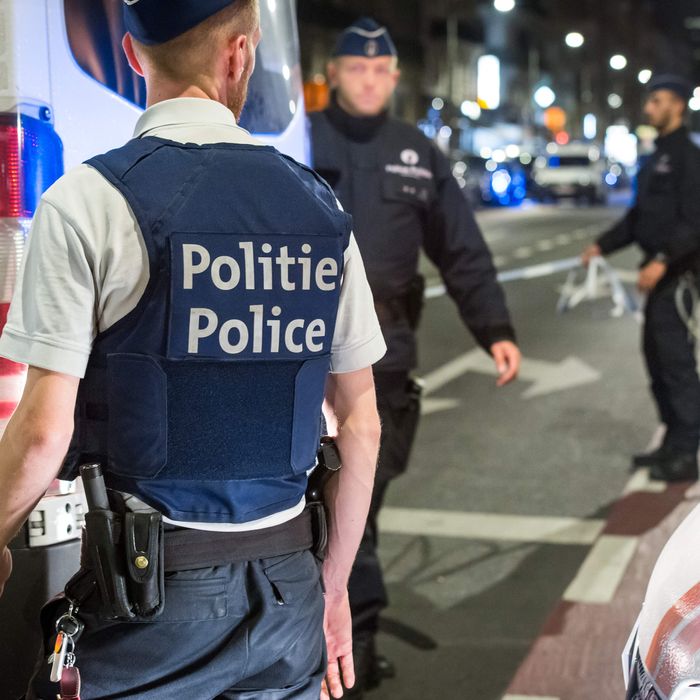 Near the scene of Friday's attack in Brussels.
Photo: Aurore Belot/Getty
Less than two weeks after 15 people were killed in a pair of terrorist attacks in Spain, two separate but seemingly unrelated incidents of suspected terrorism took place minutes apart in European capitals on Friday night.
In central Brussels around 8:20 p.m., a knife-wielding attacker stabbed a police officer in the hand and injured another before police shot him. He later died in hospital. The country's federal-prosecutors office said the suspect, 30, was shouting "Allahu Akbar" as he stabbed the officer. He was Somali by origin, and became a Belgian citizen in 2015; he had not previously been linked to any terrorist activity.
On Saturday, ISIS claimed responsibility for the stabbing.
At almost the same time in London, a man was arrested outside Buckingham Palace after brandishing a four-foot sword and also repeatedly chanting "Allahu Akbar." Three police officers sustained minor injuries as they arrested the man, a 26-year-old from the town of Luton. Police said they were treating the incident as suspected terrorism. The man had driven into a restricted area near the palace, and reached for his sword when unarmed officers approached. Police are looking into the suspect's mental-health history; as The Guardian notes, "at least two incidents initially thought to have been terror-motivated knife attacks — one at Leytonstone tube station in December 2015 and the other in Russell Square in August 2016 — were later determined to be more driven by the attacker's mental health problems."
Brussels has long been seen as a hotbed of Islamic extremism. Belgium is the Western country with the highest per-capita flow of fighters to ISIS in Syria. In March 2016, bombers detonated explosives at Brussels Airport and at a Metro station in the city, killing 32 civilians and putting the city on lockdown. The ISIS-linked perpetrators of that attack were linked to the November 2015 attacks in Paris, which killed 130 people. In June, police killed a Moroccan man who was attempting to detonate explosives at the city's central train station.
The U.K., meanwhile, has seen several high-profile incidents of terrorism this year. In May, Salman Abedi detonated a bomb at an Ariana Grande concert in Manchester, killing 22. And in London, there have been three incidences of murder-by-vehicle: In March, 52-year-old Khalid Masood drove into pedestrians on Westminister Bridge, killing four before being shot by police. In June, three attackers ran over pedestrians on London Bridge before jumping out and stabbing to death eight people before police shot them. Later that month, 47-year-old Darren Osborne ran over worshippers at a Finsbury Park mosque, killing one, in an apparent attack against Muslims.
This post has been updated to include ISIS's claim of responsibility.