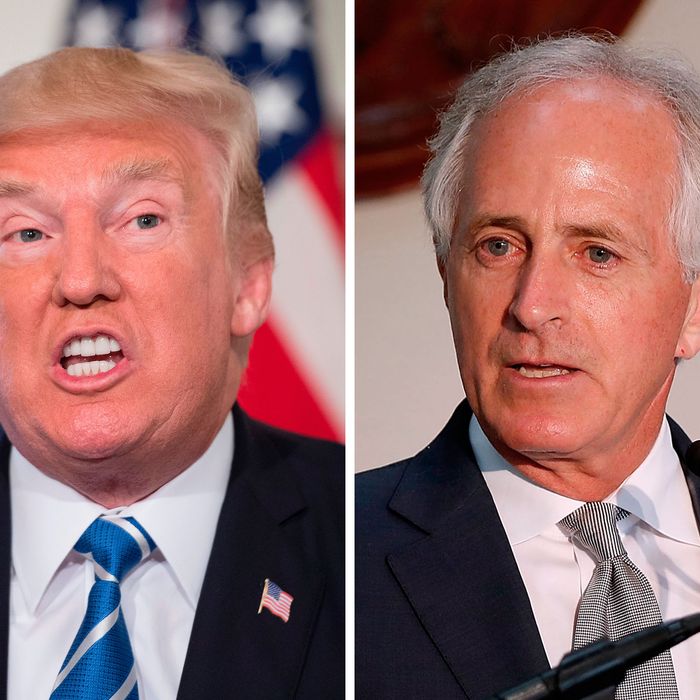 Uncorked.
Photo: Jim Watson/AFP/Getty Images; Paul Morigi/Getty Images
Last week, President Trump suggested that some white supremacists who march with torches and chant "Jews will not replace us" are actually "very fine people." Days later, Tennessee senator Bob Corker said that there needed to be "radical changes" at the White House.
"I think the president needs to take stock of the role that he plays in our nation and move beyond himself — move way beyond himself — and move to a place where daily he's waking up thinking about what is best for the nation," Corker told local reporters in Tennessee. "The president has not yet been able to demonstrate the stability nor some of the competence that he needs to demonstrate in order to be successful."
More than a week later, Trump decided to rebut these allegations, by waking up and thinking about how he could humiliate Corker for wounding his ego.
Clearly, a president who revives a week-old piece of bad press — by divulging the (supposed) details of a private conversation he had with a key Senate ally over Twitter — is not self-absorbed, incompetent, or unstable.
Corker is far from the only Republican lawmaker to be cyberbullied by the president in recent weeks. Mitch McConnell, Paul Ryan, Lindsey Graham, and Jeff Flake have also been the subject of Trump's tweeted tirades. And these public attacks have been accompanied by private dust-ups. Earlier this month, Trump reportedly had an acrimonious phone call with Corker, in which he tried to convince the Senate Foreign Relations chairman to kill the Russia sanctions bill that was poised to pass the upper chamber by a veto-proof majority.
On Thursday night, the Washington Post reported that Trump's routine criticism of his own party's leadership was not a product of the billionaire's emotional incontinence, but rather, a calculated strategy to put distance between the president and a failing Congress.
The ostensible thinking here is:
1) Trump won the presidency by speaking to the public's frustration with a D.C. political Establishment made up of do-nothing, career politicians who don't know how to make good deals.
2) While Trump had some talent for articulating these grievances, he has approximately none for actual deal-making. And this, combined with the congressional GOP's own incompetence, may lead to a first-term devoid of significant legislative accomplishments.
3) Thus, Trump shouldn't let the fact that he is president stop him from doing what he's good at, and campaigning as an outsider who's fed up with the D.C. Establishment in 2020.
Of course, this is probably just a post hoc rationalization for letting Trump do whatever he feels like — which is to say, allowing the president to pursue his true agenda.
Trump did not launch a presidential campaign because he had deep policy convictions that he wanted to implement. He ran for president because there is a hole inside him that can only be filled with media attention. Bob Corker may think that Trump needs to demonstrate stability to be successful — but that's because Corker is defining success in legislative terms. On the list of things that Trump would like to do with power, "diligently shepherd laws through Congress" doesn't place high; "use the bully pulpit to embarrass my betrayers" does.
So Corker's wrong: This president doesn't need to move beyond himself or demonstrate stability to fulfill his highest political ambition — namely, to make Trump feel dominant again.