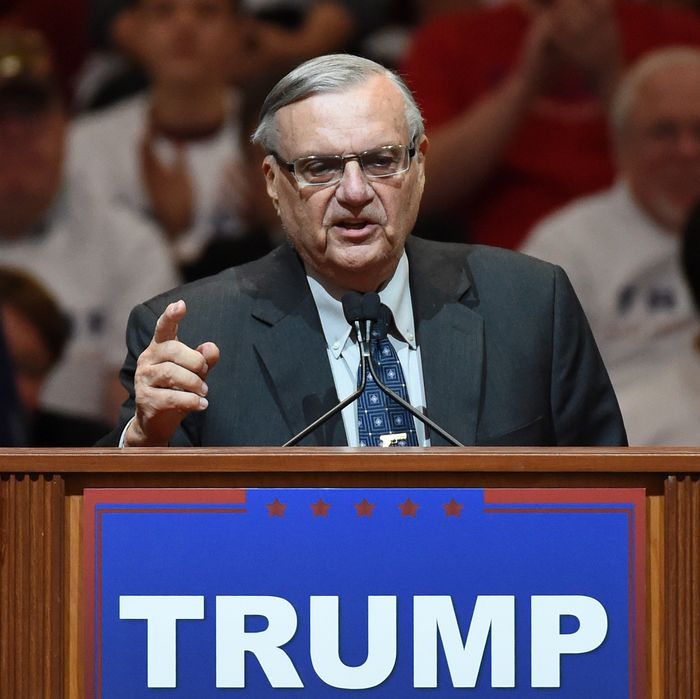 Arpaio.
Photo: Ethan Miller/Getty Images
As a Category 4 hurricane bore down on Texas, President Trump announced he would pardon ex–Arizona sheriff Joe Arpaio, a prominent supporter of the president, who is one of the most divisive figures on immigration in the country.
Trump had all but confirmed he would make the move at a raucous rally in Phoenix Wednesday night, but held off until Friday. This is the first time Trump has used his pardoning power; the Department of Justice reportedly had no knowledge of it, with Trump seemingly circumventing the apparatus in place for such decisions.
In a statement, Trump said that Arpaio's life and career "exemplify selfless public service," and that he "protected the public from the scourges of crime and illegal immigration" during his time as a law-enforcement official.
Arpaio, 85, became a national figure for his harsh treatment of criminals and undocumented immigrants during his 24-year run as county sheriff of Maricopa County, Arizona, which includes Phoenix. He ran a tent city for prisoners he proudly called a "concentration camp," in which he held pretrial detainees in unbearably hot conditions and put prisoners in solitary confinement because they couldn't speak English, among many other abuses of power.
Arpaio lost his reelection bid for a seventh term last year. He was convicted for criminal contempt in July for ignoring a judge's years-old order to stop detaining Latinos he merely suspected of being undocumented immigrants, with no other reason for arrest.
Arpaio has been a prominent backer of President Trump for years; the two bonded over their shared fervor for the conspiracy theory that President Obama was not born in the United States.
On Friday evening, he tweeted his thanks to President Trump, in typical pugnacious form.