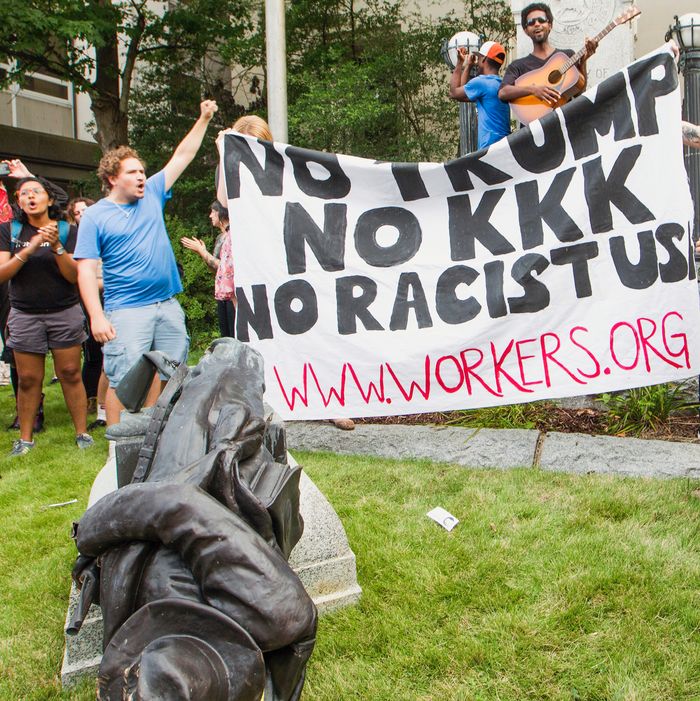 Protesters celebrate after toppling a statue of a Confederate soldier in Durham on Monday.
Photo: Casey Toth/AP
In response to the deadly white-nationalist rally in Charlottesville, Virginia, on Saturday, which was centered on the planned removal of a Robert E. Lee statue, officials around the country issued new calls for local symbols of the Confederacy to be removed.
On Monday evening, activists in Durham, North Carolina, decided they could not wait for a lengthy debate on the merits of preserving such symbols, and pulled down the city's Confederate Soldiers Monument.
Protesters gathered in front of the county administrative building to discuss their experiences in Charlottesville and march for an end to racism. After about an hour, two of the protest leaders urged the crowd of about 100 to gather around the statute, which was erected in 1924. The News & Observer reports:
A ladder was brought out, and placed in the back of the pedestal. A protester climbed the ladder and slipped a yellow, bungie-like cord around the soldier's head and arm. A group of people pulled the long yellow cord. Within seconds the soldier fell, the metal collapsing as the statute did a somersault against the stone pedestal.




Protestors cheered and started to kick the crumpled mass.
Police videotaped the incident but did not intervene to save the statue. Under a North Carolina law passed in 2015, it's illegal to remove Confederate symbols on public property without the permission of state officials.
Governor Roy Cooper, a Democrat, tweeted that he was opposed to how the statue was taken down:
But protesters said they hope their action inspires others. "It's going to send shock waves through the country, all the rest of the racist monuments and symbols can get town down also," said Isaiah Wallace, 26, of Durham.