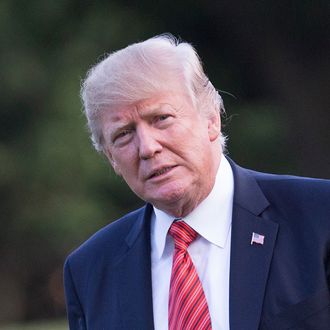 Shockingly, multiple bungled attempts to revise his initial response to the white-nationalist rally in Charlottesville, and eventually casting himself as the victim of a fake media controversy, have not reduced the heat on President Trump.
On Wednesday, four coalitions of rabbis — the Central Conference of American Rabbis, the Rabbinical Assembly, the Reconstructionist Rabbinical Association, and the Religious Action Center of Reform Judaism — announced that they will not be organizing the traditional presidential conference call for Rosh Hashanah and Yom Kippur due to Trump's failure to forcefully denounce the racist and anti-Semitic hate groups who rallied in Charlottesville earlier this month.
The group, which claims to represent more than 4,000 rabbis and congregations, said it has concluded that Trump's statements are "so lacking in moral leadership and empathy for the victims of racial and religious hatred that we cannot organize a call this year." Their statement continued:
The President's words have given succor to those who advocate anti-Semitism, racism, and xenophobia. Responsibility for the violence that occurred in Charlottesville, including the death of Heather Heyer, does not lie with many sides but with one side: the Nazis, alt-right and white supremacists who brought their hate to a peaceful community. They must be roundly condemned at all levels.




The High Holy Days are a season of t'shuvah for us all, an opportunity for each of us to examine our own words and deeds through the lens of America's ongoing struggle with racism. Our tradition teaches us that humanity is fallible yet also capable of change. We pray that President Trump will recognize and remedy the grave error he has made in abetting the voices of hatred. We pray that those who traffic in anti-Semitism, racism, and xenophobia will see that there is no place for such pernicious philosophies in a civilized society. 
President Obama participated in the conference call every year, and previous presidents have held similar events to mark the High Holy Days. It's unclear if the call will go forward with the other Jewish groups who did not join the protest, and the White House has yet to announce what it has planned for the holidays.