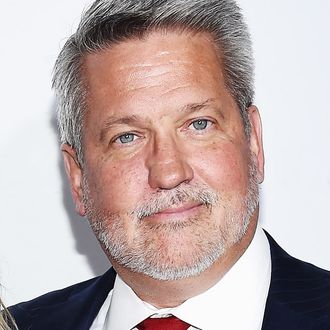 Bill Shine.
Photo: Dimitrios Kambouris/Getty Images
Former Fox News executive Bill Shine, who resigned in May over his handling of sexual-harassment claims against Roger Ailes, may soon join the Trump administration. A longtime ally of Ailes, Shine has reportedly been in touch with White House officials about joining President Trump's communications team, which is short one giant ego after the firing of Anthony Scaramucci.
The Times suggests Shine's friendship with Fox News' biggest Trump booster, Sean Hannity, has helped him get an in with the White House. And last week, he was with Trump, Hannity, and Scaramucci at the dinner that led to the Mooch's unhinged phone call to The New Yorker's Ryan Lizza. (Hannity told the Times that Shine "doesn't need my help.")
What role Shine may take in the White House is unclear, but the Times mentions the possibility of a behind-the-scenes position that would allow him to use "his skills producing and staging televised events."
If Shine does come to the White House, he'll arrive with considerable baggage. Toward the end of his tenure at Fox News, Shine came to represent a sexist culture that allowed outsize personalities such as Ailes and Bill O'Reilly to run wild. As one female executive told New York's Gabriel Sherman, Shine brushed off allegations of sexual harassment by calling the man accused "a necessary evil."
At first blush, that would hardly seem to disqualify someone from a White House led by an adulterer and admitted sexual predator. But one thing that Scaramucci taught us is that the Trump administration is much more willing to tolerate flaws in the president than in anyone else.