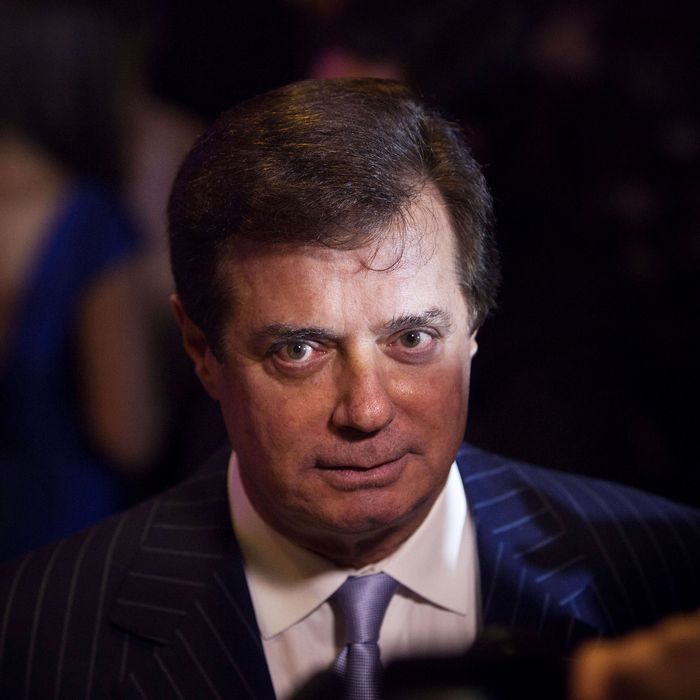 Paul Manafort.
Photo: Victor J. Blue/Bloomberg via Getty Images
Paul Manafort squealed to authorities about the now-infamous 2016 meeting between Donald Trump Jr. and a Russian lawyer, Bloomberg reports in a piece about special counsel Robert Mueller putting the screws to the former Trump campaign manager. The revelation about the meeting, which Manafort attended, is buried in a story that emphasizes Mueller's attempt to flip the 68-year-old Trump ally and make him an asset for the prosecution.
It's unclear when Manafort told authorities about the meeting, which is a detail of some import. But if we assume Manafort tipped off investigators about the meeting before it became public last month, then he's shown some openness to helping out the prosecution, which may give Mueller reason to believe he can be persuaded to fully switch sides.
That could explain why the special counsel is reportedly being so aggressive in his pursuit of Manafort's records, sending grand jury subpoenas to banks, raiding his house, and expanding the probe to look into the business dealings of his business partner, Rick Gates, and his son-in-law.
Mueller's investigation into Manafort was helped along by work done by former Southern District of New York U.S. Attorney Preet Bharara. When Bharara was fired in March, Mueller reportedly took over the probe into Manafort's sketchy real-estate dealings in what appears to be an attempt to gain leverage over him.
As an anonymous source told Reuters a couple weeks back, "If Mueller's team can threaten criminal charges against Manafort, they could use that as leverage to convince him to cooperate." The revelation from Thursday's Bloomberg report suggests it might already be working.