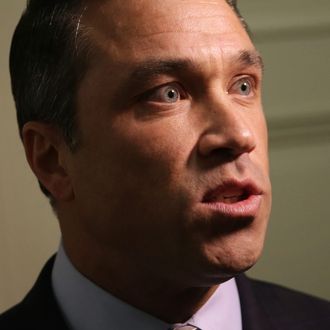 Back again?
Photo: Alex Wong/Getty Images
Disgraced Republican congressman Michael Grimm wants to return to politics, and may be feeling like there's no time like 2018. Sources told NY1 that Grimm is quietly letting some Staten Island leaders know he's considering a run for Congress next year to reclaim his old seat, which he resigned in 2015 after being convicted of federal tax fraud. He served seven months in prison, and was released last spring.
Grimm told NY1 he hasn't made any decisions yet, but there are people who want to see him run again. If he does make a move in 2018, it will likely be as a GOP primary challenger to current representative Dan Donovan. Donovan, previously the longtime Richmond County DA, handily won reelection last year with more than 60 percent of the vote in the city's one reliably red district. A head-to-head against Donovan would seem an uphill battle for Grimm, who, in addition to being a felon, is infamous for threatening, in 2014, to throw a reporter "off this fucking balcony" and to "break" him "in half. Like a boy." Although, these days, that seems relatively tame.