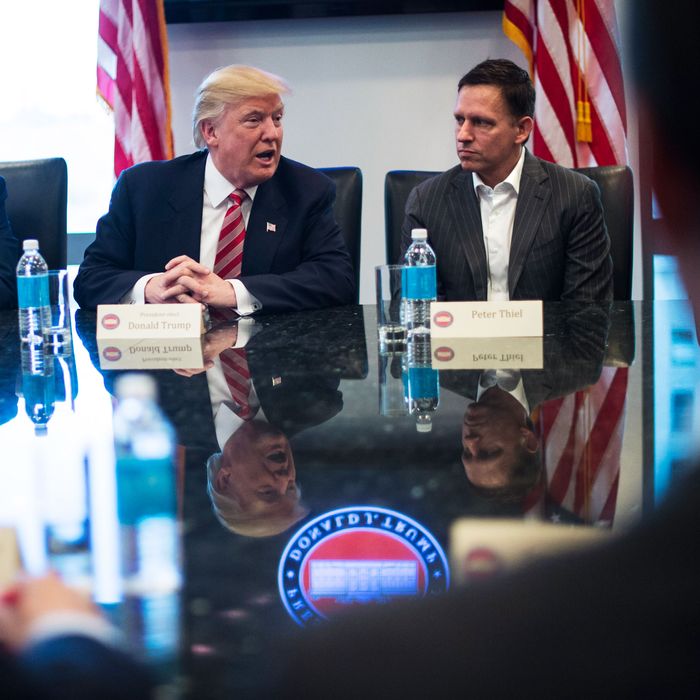 In happier times.
Photo: Jabin Botsford/The Washington Post/Getty Images
Peter Thiel, the billionaire venture capitalist who took a chance on an up-and-coming political novice named Donald Trump, is not so sure about his investment these days.
BuzzFeed reports that Thiel "has distanced himself from the president in multiple private conversations, describing at different points this year an 'incompetent' administration, and one that may well end in 'disaster.'"
Thiel's "increasingly pessimistic" views of the president have developed over time, with some of the described conversations taking place last year and others as recently as May. It was then that Thiel told guests at an event that he was frustrated by the Trump administration's slow start, and that he didn't think the president would be reelected.
Responding to the article, Thiel gave a boilerplate statement reiterating his support for the president, telling BuzzFeed, "Today it's clear that resistance to change in Washington, D.C. has been even fiercer than I anticipated … I support President Trump in his ongoing fight to achieve it."
Over the last year and a half, Thiel set himself up as a major outlier in Silicon Valley — a place not traditionally friendly to national Republicans. He not only donated heavily to the Trump campaign, but spoke in a prime-time slot at the Republican National Convention. After Trump's election, he joined the president's transition team.
Thiel made his name by co-founding Paypal and investing early in Facebook, hugely lucrative moves that earned him a reputation for forward-thinking brilliance. He is also a legitimate techno-libertarian weirdo, as most famously evidenced by his now-abandoned fantasy for a utopian billionaires' island. And he's prone to grandiose, contrarian gibberish. "Everyone says Trump is going to change everything way too much," he told Maureen Dowd in a revealing profile in January. "Well, maybe Trump is going to change everything way too little."
All of this has lent Thiel a certain air of rarefied mystique. But as New York's Brian Feldman observed last year, his aura seems unearned: "Regardless of whether they view him as a benevolent futurist or scheming magnate, most people, it seems, perceive Peter Thiel as very, very smart," whereas all available evidence — his interviews, public appearances, and speeches — reveasl him to be "a crank who doesn't have a very deep understanding of politics."
Thiel, as Dowd wrote, seems to view the whole enterprise through the prism of a risk-tolerant venture capitalist:
One could have predicted Mr. Thiel's affinity for Mr. Trump by reading his 2014 book, "Zero to One," in which he offers three prongs of his philosophy: 1) It is better to risk boldness than triviality. 2) A bad plan is better than no plan. 3) Sales matter just as much as product.
It's not obvious what Thiel actually wanted from the Trump administration. For years, he has chafed at the notion that American-style liberal democracy is the best way to organize a society. He touted Trump as someone who could get a sclerotic government to solve big problems, and criticized Hillary Clinton as too hawkish. His aversion to multiculturalism and disdain for culture elites aligns him with the president, too. But how, exactly, Trump has dropped the ball in Thiel's eyes — beyond the obvious chaos — isn't totally clear.
Thiel probably isn't losing any sleep over the fact that his presidential bet isn't paying off the way he wanted. But it's still enjoyable to watch a prominent Trump Train passenger steel himself as the locomotive veers off the tracks.