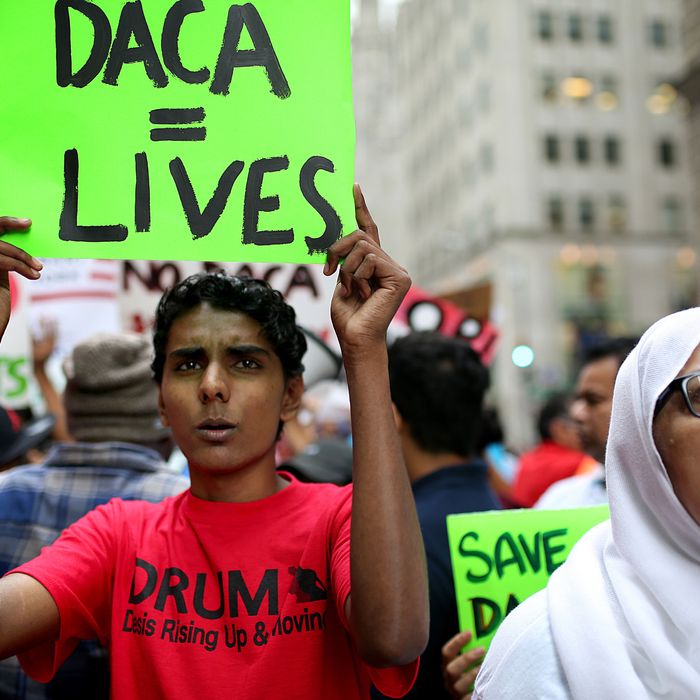 A pro-DACA protester outside Trump Tower.
Photo: Mohammed Elshamy/Getty Images
Deferred Action for Childhood Arrivals (DACA), the Obama-era program that eases the threat of deportation for undocumented immigrants who came to the U.S. as children, is "likely" nearing its end, NBC News reports.
A decision on the future of the program, which has protected nearly 800,000 young people from prosecution, faces an artificial deadline on September 5. That's the date a group of conservative attorneys general have set for the White House to overturn the program, lest they pursue legal action to overturn it.
NBC News reports that the Department of Homeland Security and Attorney General Jeff Sessions have been communicating with the White House on the subject this week, but does not get into the content of those discussions. A report from Axios does. In an article suggesting less confidence that the Trump administration will kill the program, Axios' Jonathan Swan says Sessions, an immigration hardliner, has been pushing for the repeal of the 2012 policy. DHS, he writes, "has a more nuanced position."
On Friday, White House press secretary Sarah Huckabee Sanders would only say that the policy "continues to be under review."
If Trump does dump DACA, it will have a dramatic effect on the lives of the nearly 800,000 Dreamers who have taken advantage of the policy. But there's also the chance Trump will choose to use these human beings as political pawns instead. Trump himself has expressed sympathy for Dreamers, who could only attain that status by achieving certain standards of achievement, and despite campaign promises to end the program, he doesn't appear eager to do so. But that's unlikely to stop him from threatening to end the program if he thinks it can help him get funding for his precious border wall.
Problem is, Democratic leadership has already shot down the idea of such a trade. Senate Minority Leader Chuck Schumer tweeted this week that "Dreamers are not a bargaining chip for the border wall and inhumane deportation." Meanwhile, in the House, the Democratic leader Nancy Pelosi signaled her disdain for the idea, tweeting, "Dreamers are not negotiable." Let's see what the great negotiator can do with that.