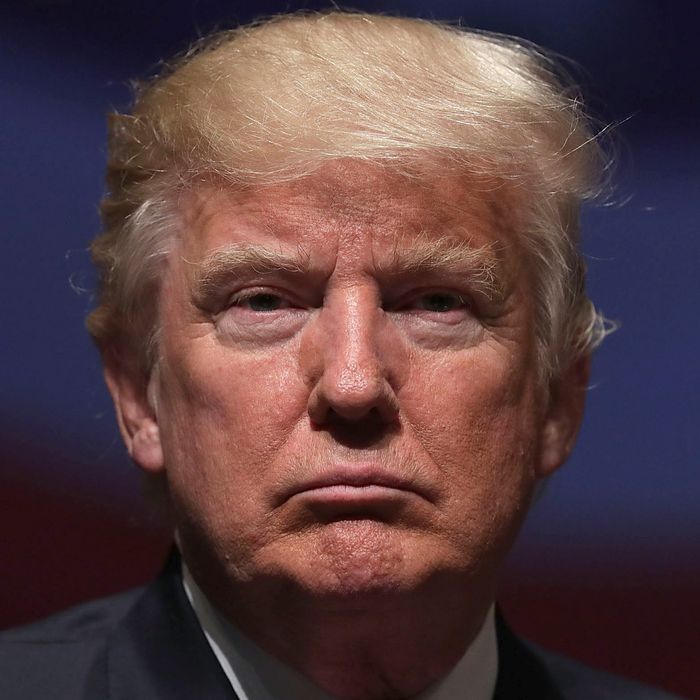 It wouldn't be the first time the president has considered using his power to protect his friends from prosecution.
Photo: Alex Wong/Getty
The Washington Post and New York Times reported on Saturday night that President Trump, months before pardoning ex–Arizona sheriff Joe Arpaio, had explored the idea of simply quashing Arpaio's criminal-contempt case as it wound its way through the courts. According to the Times' Maggie Haberman:
During a wide-ranging meeting, the officials said, Mr. Trump asked both Jeff Sessions, the attorney general, and Donald F. McGahn II, the White House counsel, what the options were for helping Mr. Arpaio, a longtime supporter who had been charged with defying a court order directing him to stop detaining people solely on the suspicion that they were undocumented immigrants.




Mr. McGahn and Mr. Sessions both promptly told the president that the case could not be dropped and the charges wiped away, according to the officials, who spoke on the condition of anonymity because they were not authorized to speak publicly about Mr. Trump's private conversations. Mr. Trump then asked about other options, including his power to pardon Mr. Arpaio if he was convicted. He was told he had broad pardon powers, and was satisfied with that answer, the officials said. Mr. Arpaio was ultimately convicted last month, and Mr. Trump pardoned him before he was sentenced.
Arpaio and Trump have been close allies for years, and the two bonded over their love of delegitimizing President Obama — in 2012, Arpaio assembled a "Cold Case Posse" to ostensibly assist with Trump's bogus "birther" investigation. And, of course, the two share punitive, hard-line views on immigration, which made Arpaio a natural to warm up frenzied Trump campaign-rally crowds.
Trump's pardon of Arpaio, while legal, was unquestionably an abuse of power and rebuke to the justice system. But the idea that Trump would end an active investigation to benefit a political ally raised the specter of a more serious offense. And it's not without precedent in this administration; in March, Trump asked FBI director James Comey to end an investigation into ex–national security advisor Michael Flynn, a key incident in the widening investigation into Russia's electoral interference.
So far, very few GOP lawmakers have rebuked Trump over the pardon. On Saturday, House Speaker Paul Ryan became the highest-ranking Republican to criticize the Arpaio pardon, though he didn't exactly bring the hammer down.
"The Speaker does not agree with this decision," spokesperson Doug Andres said in a statement. "Law enforcement officials have a special responsibility to respect the rights of everyone in the United States. We should not allow anyone to believe that responsibility is diminished by this pardon."
Senator John McCain, a familiar critic of the president, had issued a harsh denunciation of Trump's decision, saying it "undermines his claim for the respect of rule of law as Mr. Arpaio has shown no remorse for his actions." Fellow Arizona senator Jeff Flake, whose recent book doubles as a searing critique of the president, was far milder, issuing a milquetoast-flavored condemnation:
Most other Republicans remained silent as Democrats fumed. Meanwhile, recollections of Arpaio's cruelty during his long run as Maricopa County sheriff rolled in. A local Arizona newspaper's recollection of some his worst transgressions had garnered over 136,000 retweets as of Sunday morning.