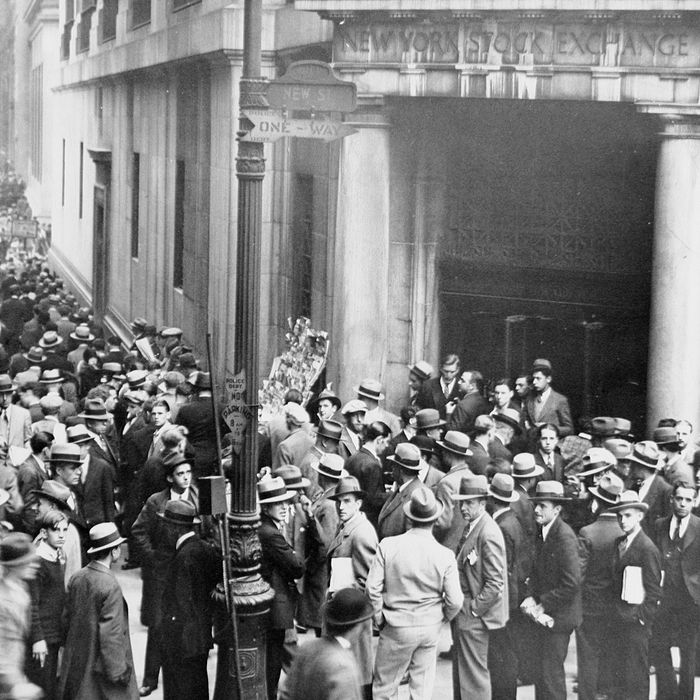 Wall Street in happier days, unburdened by Big Government regulation.
Photo: New York Daily News Archive/Getty Images
"This is the third time in 100 years we've had this alignment of government that we've got to get it done or else I [am] really worried our country will continue down a bad path," said Paul Ryan this weekend. "This alignment of government" means conservative Republicans control the House, the Senate, and the presidency. The previous two times Ryan is describing are the 1920s, when Warren Harding, Calvin Coolidge, and Herbert Hoover presided over a Republican-controlled Congress, and the George W. Bush administration. (Ryan is omitting 1953–1954, when Republicans narrowly controlled both chambers, presumably because Dwight Eisenhower governed as a moderate deeply at odds with conservatives.)
The Republican government of the 1920s ended when a wave of loosely regulated stock speculation produced a crash in the financial system. The Republican government of the 2000s ended the same way. It's not clear what lessons Ryan has absorbed from these prior episodes, but he does not seem to be especially concerned about repeating those policy errors.
In possibly related news, The Wall Street Journal reports today, "Penalties levied against firms and individuals by the Securities and Exchange Commission, the Commodity Futures Trading Commission and the Financial Industry Regulatory Authority in the first half of 2017 were down nearly two-thirds compared with the first half of 2016—putting regulators on track for the lowest annual level of fines since at least 2010."
And it is true, as President Trump now boasts on a near-daily basis, that the stock market is performing well. Weak regulations are one way to help produce higher stock values. In the short run.