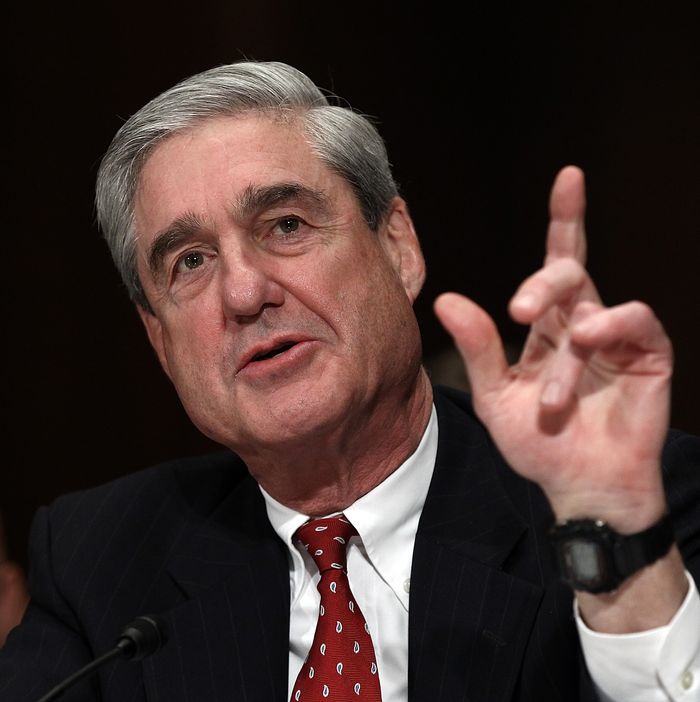 Special counsel Robert Mueller.
Photo: Win McNamee/Getty Images
Donald Trump's ability to issue presidential pardons has been the ultimate weapon looming over Robert Mueller's investigation. Trump could potentially pardon himself of any crimes. More important, he could dangle a pardon to his former staffers to encourage them not to supply Mueller with any incriminating information on Trump. Mueller is apparently handling his investigating like the prosecution of a mob boss, pressuring underlings to flip on the boss. Trump's advantage is that, unlike a mob boss, he can give out an unlimited number of get-out-of-jail-free cards. Trump has reportedly mused in public about using the pardon — and his pardon of Joe Arpaio flaunted his willingness to use it on behalf of a political ally, even in outrageous fashion.
But it turns out that there is a flaw in Trump's strategy. The presidential pardon only applies to federal crimes. As NBC reported last night, it is possible for state governments to press charges in some of the alleged crimes committed by Trump's cronies. "You would have to find that one of those [election] crimes occurred in New York," Jennifer Rodgers, a former federal prosecutor, told NBC. Of course, some of the alleged crimes almost certainly did take place in New York. And sure enough, Josh Dawsey reports, Mueller is teaming up with New York Attorney General Eric Schneiderman. "One of the people familiar with progress on the case said both Mueller's and Schneiderman's teams have collected evidence on financial crimes, including potential money laundering," he notes.
Trump can pardon anybody facing charges from Mueller, but not from Schneiderman. It is probably significant that Mueller is letting this fact be known to Trump's inner circle. Trump's biggest source of leverage over Mueller just disappeared.