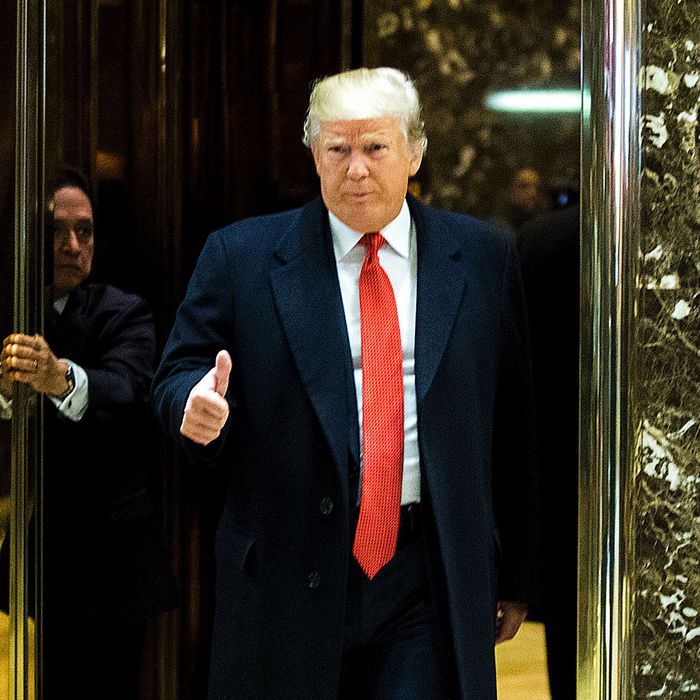 Donald Trump.
Photo: Eduardo Munoz Alvarez/AFP/Getty Images
A month and a half ago, the New York Times obtained emails in which Donald Trump Jr. set up a meeting in Trump Tower with Russian officials who were promising him sensitive information, on his father's opponent, that would help the Trump campaign. A few days later, it emerged that the meeting also included Rinat Akhmetshin, a figure whose name was not included in the first stories about the meeting, but who is a key figure in the meeting because he is almost certainly a Russian spy.
Today's Times has a follow-up story on Akhmetshin, with three reporters sharing a byline. The story does not call Akhmetshin a Russian spy, because that is not a charge that a newspaper can prove, short of extraordinary evidence like an email from Akhmetshin saying, "By the way, I'm a Russian spy." (And that email does not exist because — unlike, say, Donald Trump Jr. — Akhmetshin is not a complete idiot.) Instead, the headline cautiously calls Akhmetshin a "Lobbyist" who has a "Web of Russian Connections."
But this massively understates the story's conclusions. Donald Trump has a web of Russian connections. Akhmetshin is (again, almost certainly) a Russian spy. The shadiness of Akhmetshin's cover story comes through over and over in the report. Akhmetshin "told some journalists that he worked with a military counterintelligence unit, but said he never joined Russian intelligence services — unlike his father, sister and godfather," the Times reports, skeptically. He founded a "think tank" with the ostensible purpose of promoting democratization, but which was, in reality, "essentially a vehicle to burnish the reputation of one client, Akezhan Kazhegeldin, an ex-K.G.B. officer and the former prime minister of Kazakhstan."
Meanwhile, Akhmetshin's résumé contains gaping voids:
A trained biochemist who speaks four languages, he described himself on one official document as a "househusband. " He identified himself as the head of a Washington think tank for years after it was officially dissolved.
And his explanation for how he ended up in the meeting is just a tad bit suspicious:
Mr. Akhmetshin, a Washington resident, has told reporters that he just happened to be lunching with Ms. Veselnitskaya in Manhattan that day when she spontaneously invited him to the meeting with the president's son, son-in-law Jared Kushner and Mr. Manafort. He did not explain why she wanted him there.
So, there was a lot of traffic in Dupont Circle that day, and long story short, he wound up in Manhattan, got hungry for lunch, coincidentally ran into another Kremlin agent, and decided to tag along to a meeting in Trump Tower.
It has previously been reported that Akhmetshin hacked into the emails of a firm his clients were fighting in court. Today's story documents a second attempted hacking:
The first hacking case, which has not previously been reported, began when Mr. Akhmetshin served an alliance of businessmen led by Suleiman Kerimov — a financier close to Mr. Putin in a commercial and political dispute with a Russian competitor, Ashot Egiazaryan.




In early 2011, two London lawyers on Mr. Egiazaryan's team separately received suspicious emails and hired forensic experts to scrutinize them, according to people involved in a Scotland Yard investigation. The experts found that the messages concealed spyware meant to infiltrate their computers, and they fed traceable documents into the spyware that were then opened by computers registered at the Moscow office park of one of Mr. Kerimov's companies.
Of all the facts in the Russia scandal, this one seems the most underplayed. Email hacking is one of Akhmetshin's basic methods of operation. The Trump campaign met with a Russian spy who is known for pulling the exact kind of crime that was committed in this case.