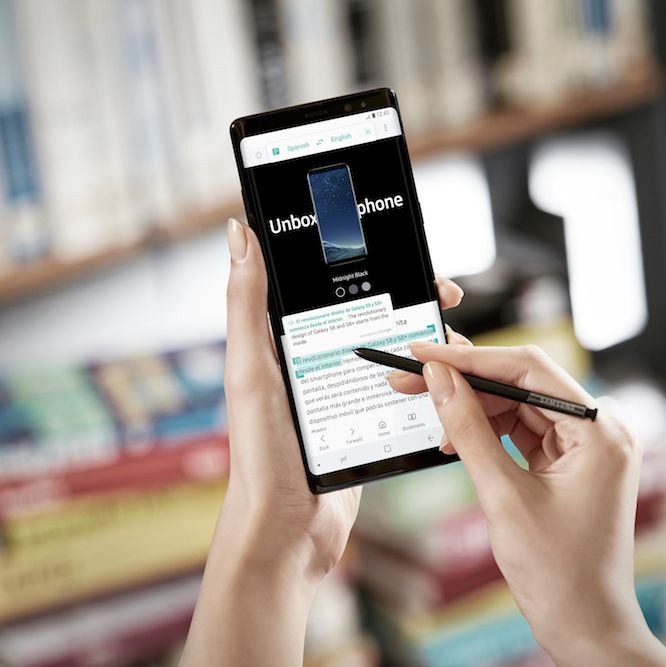 The Samsung Galaxy Note 8.
When it was released, the Samsung Galaxy Note 7 was the best Android phone available, debuting to tremendous praise from nearly every corner. Then, of course, Note 7s started to explode, leading to one of the more muddled (and expensive) recall efforts in the history of smartphones. The smell of smoke still lingers for Samsung. After the Note 7's troubles, some wondered if Samsung would even continue the Note phablet line.
But after spending about an hour with the Samsung Galaxy 8, debuting today here in New York, it's clear once again: If you want the best Android phone currently available on the market, the Samsung Galaxy Note 8 is your choice.
The Size
Big, expensive, equipped with a stylus: The Note has always been an enthusiast's phone. What's interesting is how much the Note 8 takes its cues from the Galaxy S8 and S8 Plus. In previous years, the Note stood somewhat apart from the Galaxy S line. Now, seen from across the room, it looks mostly like a larger S8 Plus — an S8 double plus, if you will. Its 6.3-inch screen is just barely larger than an S8 Plus's 6.1-inch screen (which is more a testament to how big Samsung's screens have gotten this year; last year's gargantuan Note 7 was under six inches), but it's still a big, beautiful AMOLED screen that makes colors pop in ways that other phones just can't match.
The Specs
The specs are impressive, though it would be more shocking if they weren't. A 6.3-inch Quad HD Super AMOLED screen (i.e., it'll look real nice); an impressive 6 GB of RAM; a top-end Snapdragon, stupidly fast octa-core processor; and 64 GB of built-in storage — which you can expand with more memory cards to 256 GB. The one compromise? It only has a 3,300 mAh battery (more on that later).
The Cameras
The Note 8 also comes with dual rear lenses. One is a 12 MP f/2.4 "telephoto" lens, meant for allowing for optical zoom, so you can take a picture of the lead singer at a concert; the other is a wide-angle f/1.7 12 MP lens, meant so you can capture the whole band. Working together, these dual lenses form the same software-enabled "portrait mode" (dubbed "Live Focus") that produces that fuzzy bokeh effect associated with pro photography.
The impressive bit is the ability to shoot in portrait mode and actively adjust just how much background blur you want behind your foreground object. It feels markedly less finicky than attempting to use portrait mode on the iPhone 7 Plus, though software-enabled, ersatz depth of field always comes with some hiccups — I noticed there was still some odd masking around foreground objects in live preview (though those seemed markedly less noticeable in photos after they were taken). What's more, you can adjust your bokeh effect after the fact — you can open a photo taken with Live Focus and adjust a slider back and forth, easing the entire picture back into focus, or further obscuring the background into blur. And thanks to the wide-angle lens shooting at the same time, you can click once more to get a much wider shot of everything you just took. It's a noticeable step above what other manufacturers — including Apple — are able to do right now.
It also comes with an 8 MP front-facing camera. I wasn't able to see much difference between it and any other flagship phone's selfie camera — but that's no knock against it. Once you're spending more than $500 on a phone, pretty much every camera takes pretty good photos of you. The front-facing camera also comes with an iris scanner, allowing you to unlock your phone just by looking at it.
The Stylus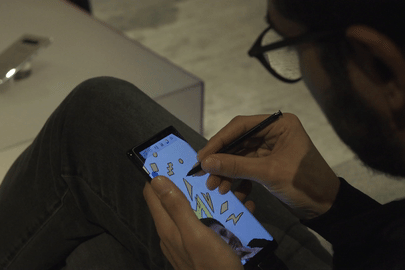 The included stylus is still there. You can now send a "Live Message" — draw out a picture and the Note 8 will turn it into an animated GIF you can send to anyone on any operating system. That said, the stylus isn't for everyone. I, contra Steve Jobs, like a nice stylus. I like to be able to doodle on my phone, and while my job is mainly just writing out blocks of text, I like the ability to read a PDF on my phone and manually highlight stuff for later reading. Samsung has added a particularly nice feature in the ability to jot down a note on an unlocked phone. It means you essentially carry some scratch paper around with you at all times. It's one of those small quality-of-life improvements I can see making a big difference in my day-to-day life.
Will It Explode?
In its opening, Samsung explicitly acknowledged the Note 7 fiasco, with testimonials from disappointed Note fans. Samsung needed to address the issue; the most common question I got when trying out the Samsung S8 earlier this year was whether it caught fire. Still, I'm optimistic that the Note 8 won't go up in smoke.
Here are my two cents on why this won't happen:
One, Samsung has — by all accounts, both from within the company and without — completely redone how it handles battery safety. It's easy to roll your eyes at a company making a slick video about its efforts, but the recall cost Samsung, by one estimate, $17 billion. This isn't just feel-good PR; this is vital stuff for Samsung's mobile division.
Two, the battery in the Note 8 is a relatively conservative 3,300 mAh, down from the Note 7's 3,500 mAh. It also has a lot more room to breathe in the Note 8 — the Note 8 is larger than the Note 7, and while Samsung wouldn't let me crack open a press display phone, I'd wager ten-to-one odds that the logic boards and other internal chipsets have shrunk down a bit since the Note 7.
Three, Samsung people wandering around the press event seemed acutely aware of just how much the company needs this. It still makes the third and fourth most popular phone in the world in the Samsung S8 and S8 Plus, respectively — but there was a time in 2016 when it made the best-selling phone in the world, period. If Samsung is truly going to compete with Apple, it has to make it through this trial by fire (or, er, non-fire). The Note series are never going to be massive sellers — they're pricey and large and perhaps a bit over-specced. But Samsung needs to prove it can make one again. In 2016, Samsung was a company that rushed last year's Note 7 to market in hopes of taking advantage of the rumors of Apple's underwhelming iPhone 7 lineup. Samsung this year is a company white-knuckling everything it can to make sure absolutely nothing bad happens. (And, for what it's worth, nothing has happened so far with the Samsung Galaxy S8 series.)
When You Can Buy It
It's available for preorder tomorrow, August 24, and sold through AT&T, C Spire, Cricket Wireless, Sprint, Straight Talk Wireless, T-Mobile, U.S. Cellular, Verizon Wireless, and Xfinity Mobile. It ships September 15, and those who preorder can choose from two bundles: a free Samsung Gear 360 camera or a free 128 GB EVO Plus memory card and Fast Wireless Charging Convertible kit. Me, I'd go with the extra storage and wireless charging, but that's mainly because I've yet to really see a use for 360 cameras. There's no price set yet — some of that will be up to carriers — but considering the S8 Plus was nearly $900, I wouldn't be surprised to see this retail for $950, or even $1,000.
The Bottom Line
Samsung is, rightly, proud of being first. It's responsible for the rise of the phablet. Those beautiful OLED screens Apple will show off in the iPhone 8 will have been in Samsung phones for years. Its curving displays have been at the forefront of shrinking down bezels. But the Note 7 — one of the most ambitious smartphones put out this decade — showed the risks of being first. If the Note 8 feels more like a layup than the moon shot of the Note 7, it's still a pretty one. The Samsung Galaxy S8 is the best Android phone available, and — judging from the limited time I got to use it — the Note 8 will soon take its spot.