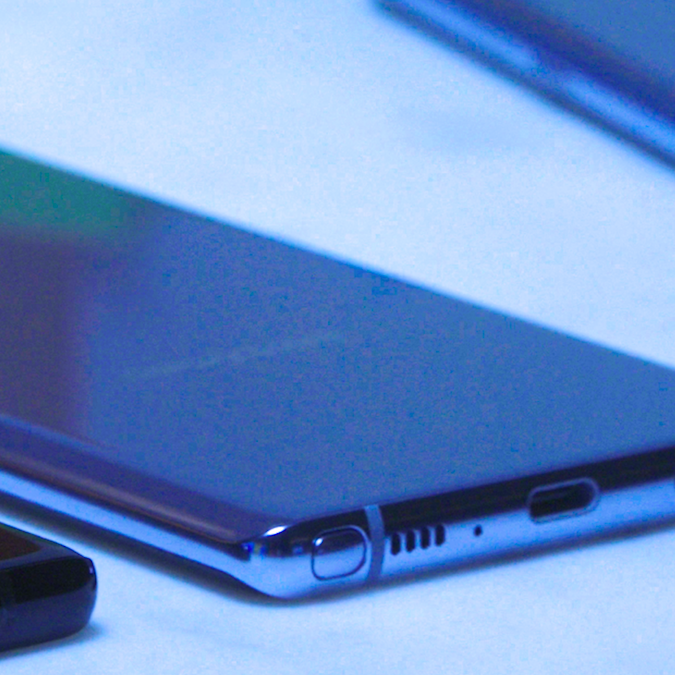 There it is folks, that thing we all know and love: the headphone jack.
Samsung Unwrapped, its big unveiling of the Samsung Galaxy Note 8 (now with a 6.3-inch screen and no fires!) happened today, August 23, at the Park Avenue Armory. These large tech events tend to draw especially enthusiastic crowds; companies sometimes fill out seats with fanboy claqueurs to ensure applause on demand. So you got big reactions to things like food-mode photography, screen share, and an app with an adult coloring book.
To give credit where credit is due, the Samsung event looked good: Three massive LED screens were used for the floor and two walls, presenters were smoothly confident, and there was a clear flow to the presentation as Samsung slowly ticked off each box about why the Note 8 is the best Samsung phone yet.
As the presentation was coming to a close, Samsung senior vice-president Justin Denison came out to talk about what would come with the Note 8. It comes with 64 GB of internal storage, which you can bulk out to 256 with a microSD card. It's built for wireless charging. And it's IP68 dust- and water-resistant.
But Denison saved the best for last. "Thanks to our partnership with Harman, the Note 8 will come with a pair of premium AKG headphones, tuned by them, for a superior listening experience," he said. "But wait, there's more. Guess what you can do with those earphones? That's right: You can plug them into the standard earphone jack." And the crowd went wild. People whistled. There may have been some whoos, perhaps even some hooting and hollering. In other words, one of the biggest applause lines of Samsung's hour-long presentation wasn't because of any innovative new feature — it was its decision to not innovate.
It's not that smartphones can't succeed without a headphone jack. Apple's headphone-jack-free iPhone 7 and iPhone 7 Plus are currently the best-selling phones in the world. It's just that every phone that isn't an iPhone that doesn't include a headphone jack crashes and burns. The Moto Z died a quiet, unmourned death. The HTC U Ultra barely made a ripple before disappearing. And smartphone godfather Andy Rubin's Essential Phone shipped sans headphone jack, to general grousing from reviewers.
Apple is able to remove its headphone jack because if you want to use iOS, you have exactly one choice about what company makes that phone. If Apple decides that the iPhone 8 will deliver small electrical shocks to customers hands on a random basis, they'll still probably move northward of a million units. ("The shocks remind me to reengage with the world. They're a blessing.") But in the world of Android, where manufacturers actively battle for the global market, ditching the headphone jack is an easy way for customers to pass you over. And keeping that headphone jack is an easy way to earn some goodwill from your customer base.