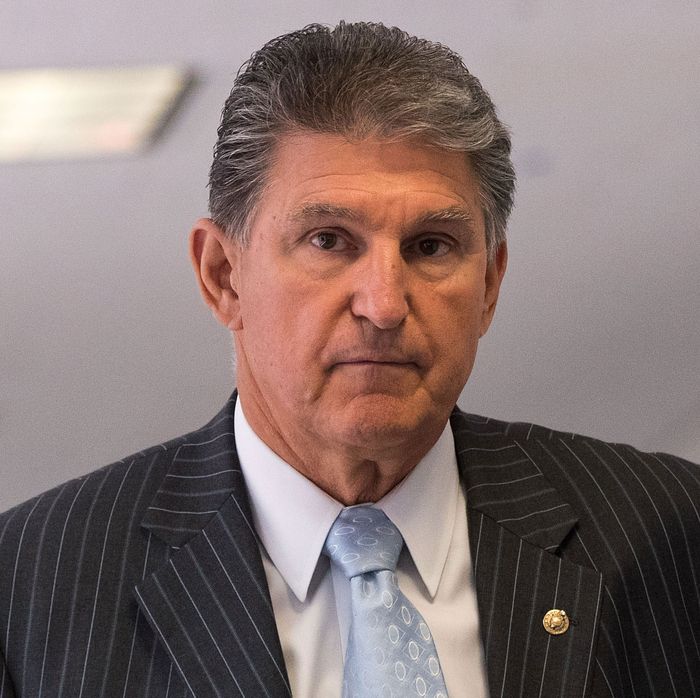 West Virginia Democrat Joe Manchin blows up a sketchy plot to open up a cabinet job for him. His party-switching governor wanted to give the GOP the additional Senate seat they needed to turn around their health-care defeat.
Photo: Drew Angerer/Getty Images
With Stephen Bannon's departure from the White House dominating the news today, a lot of political observers may have missed a story that appeared to show a Machiavellian White House scheme falling flat:
Sen. Joe Manchin (D-W.Va.) is quashing speculation that he'll leave the Senate to become President Trump's Energy secretary.




The Democratic senator, who is facing a tough 2018 reelection bid, said at a town hall that he would not be jumping to the Trump administration.
Observers who can remember all the way back to the beginning of the Trump administration (a long time in Twitter years) may recall Manchin's name came up for the Energy gig during the transition. But he was passed over for former Texas governor Rick Perry. The Manchin talk didn't even continue long enough for it to become clear whether or not the West Virginian was interested.
But three unrelated developments revived it, at least in the media: the failure of Senate Republicans to enact health-care legislation; the resignation of Homeland Security secretary John Kelly to become White House chief of staff; and a party-switch by previously Democratic West Virginia governor Jim Justice.
It was pretty easy to design a razzle-dazzle play that would get Republicans a health-care bill, and sure enough, it was reported by Bloomberg as a work in progress:
Some White House and Republican officials are exploring the idea of putting West Virginia Democratic Senator Joe Manchin in charge of the Energy Department, according to four people familiar with the discussions, a move that could boost President Donald Trump's stalled legislative agenda.




If Manchin were offered and accepted the position, that would allow West Virginia's Governor Jim Justice – a newly minted Republican – to appoint a GOP successor and bring the party a vote closer in the Senate to being able to repeal Obamacare.
For this to transpire, of course, Rick Perry would have to agree to give up Energy for Homeland Security, and he quickly made noises that he was happy right where he was. Media folk pointed out that Perry and Trump had not exactly seen eye-to-eye on immigration enforcement in the past. And others fretted about the precision-timing required to get Manchin confirmed and a reliable vote for "skinny repeal" sworn into the Senate.
In the end, it's not clear if Perry balked, or Manchin passed, or Justice wanted to appoint himself to the hypothetical open seat, or if the whole thing was a Republican fantasy from the get-go. But this particular game of musical chairs ended before it began.