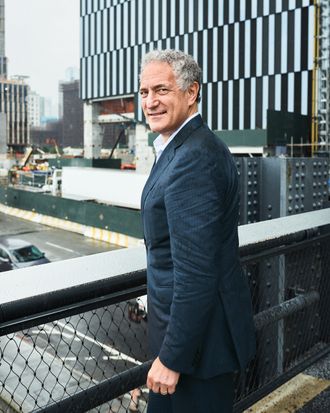 Doctoroff at Hudson Yards on August 15.
Photo: Kyle Dorosz
Dan Doctoroff and I are standing on the 26th floor of the first tower to open in Hudson Yards, in the buzzy open-plan offices of a Google offshoot called Sidewalk Labs, for which he serves as CEO. Mostly young people, jacked up on free Joyride Coffee, are collaborating all around us, some putting Post-its on the floor-to-ceiling windows. Google's parent company, Alphabet, calls its start-ups like Sidewalk "bets." (Waymo, the self-driving-car company, is another one.) What Google is betting on is that its technologists can and should mediate our lives, for the good of all. In the case of Sidewalk, the goal is to make a better city, and the company is in search of a municipality to partner with on building a digitally optimized district from the ground up: an IRL beta-town. So far, Sidewalk, via another company, Intersection, is behind those nine-foot tall LinkNYC Wi-Fi kiosks on the sidewalks around New York. He also personally happens to be an investor in the company that runs Citi Bike, which I used to get over to the far West Side for the interview. (He lets me in on a secret: Sidewalk employees have their own private docking station.)
But we're not here to talk about the city of the future; we're discussing the city of today, the one built in the wake of 9/11. Doctoroff, then a partner in a private-equity firm, was obsessed with the idea of bringing the Olympics to New York (the stadium was to be built where we're standing now). He was recruited by Michael Bloomberg to be his deputy mayor for economic development and reconstruction. He was paid a dollar a year and resented by many career bureaucrats and political hacks for his lofty self-regard, something he admits he wasn't always sensitive to. He's written a book about those years—a combination manifesto-memoir — called Greater Than Ever: New York's Big Comeback.
The book is more entertaining than many urban-planning memoirs, in part because of its subtle score-settling (he sees fit to mention the child-porn convictions of two of his former adversaries). There's good gossip: He writes about dealing with Trump through the years, as when the now-president lost out on his bid to redevelop 2 Columbus Circle. (He "unleashed a series of threats, invectives, pleas, and finally, whimpers," followed, after The Apprentice debuted, by weekly calls to Doctoroff to brag about its ratings.)
But it's also an inside look at how the above-the-fray Bloomberg team worked to grow the city and its tax base by attracting a more upscale resident. "You have to treat citizens and businesses like customers," Doctoroff says. Success is when "more customers want to come and stay. And the ultimate measure is population growth."
He points down to the Lego blossom of Thomas Heatherwick's tower of stairs (part viewing platform, part cardio challenge) going up in the middle of the Hudson Yards central plaza, and, next to it, the enormous streamlined-mobile-home form of the Shed, a new cultural center, also still under construction. All that you can see from these windows is more high-rises on the rise, already cloaked in glass or still dressed in the orange safety netting that has become a ubiquitous urban accent.
In the book, Doctoroff makes the argument that by rezoning 40 percent of the city, they "changed the physical nature of the city in ways that will undergird prosperity for decades." And lured new generations of "dreamers and strivers" — the new New Yorkers who, while they might claim they long for some filth Camelot of the busted 1970s, happily throng this implacably gentrifying customer-service metropolis. Still, even if Doctoroff has little use for "nostalgia," practically an epithet in the book, the city did expand historic districts during the Bloomberg years.
The main thing Doctoroff admits the administration didn't quite get right was figuring out how to keep New York from becoming too expensive for many of the people who already lived in it. "The city grew faster than we expected," he says, as we retreat into "Chicago," one of the glass-walled conference rooms named after cities. (Though, to their credit, in the aftermath of 9/11, when Bloomberg took office, the bigger concern was how it would survive at all.)
Doctoroff also writes in the book about how he never really liked New York City, much less wanted to live here, which is an odd thing for someone who served for six years as its deputy mayor to admit. When he first visited with his family, in 1968 — he was 10 and a resident of Birmingham, a well-off suburb of Detroit — it was "hate at first sight." He moved here in 1983 after his wife got a job at HBO — Doctoroff had been only three times and it never grew on him. The self-described "creature of the suburbs" helped remake this city, in some ways, for his own maximum personal comfort. And yet, he gets the restless spirit of the town, which he's learned to love, on some level. "New York will be a great place if you ever finish it," he says. "Which is exactly not the point."
The book paints a portrait of Bloomberg as a peculiar, distanced man, even to Doctoroff, whom he made CEO of his namesake media company after the tour of duty in City Hall. "Normal relationship standards couldn't apply," Doctoroff explains, as if still puzzling it out. He doesn't remember ever getting a compliment in private from his boss. But clearly Doctoroff knows how to manage up: Once, when he was running Bloomberg's company several years ago, he pitched the boss on a new building for the expanding London staff that would finish construction around 2016. Bloomberg responded: "Why do I care about that? I'll be dead by then." Doctoroff then walked the boss through a 25-page online actuarial questionnaire that predicted he'd live till 92. (Doctoroff got the building.) But he never veers into Kitty Kelley territory. Doctoroff actually enumerates Bloomberg's positive traits through the Boy Scout Law ("Trustworthy, Loyal …"), since Bloomberg was an Eagle Scout.
Which is something the Bloomberg people share with the Google "Don't be evil" people: a trust-us self-assurance in their own technocratic moral sense. Those LinkNYC Wi-Fi monoliths became famous, at first, because people were using their embedded Android tablets to watch porn.
"To be honest with you, I did not anticipate that," Doctoroff tells me. "If it hadn't been my project, it would be really funny." LinkNYC is just the beginning of Google's master plan for a Googletopia, wired up with sensors, awash with data, and populated by driverless cars. (It ought not to be surprising, but the monoliths have cameras looking back at us.)
I ask if Bloomberg has read the book. "I don't know," Doctoroff says. "I sent it. I wouldn't expect him to say anything. I certainly wouldn't expect a compliment."
*This article appears in the August 21, 2017, issue of New York Magazine.