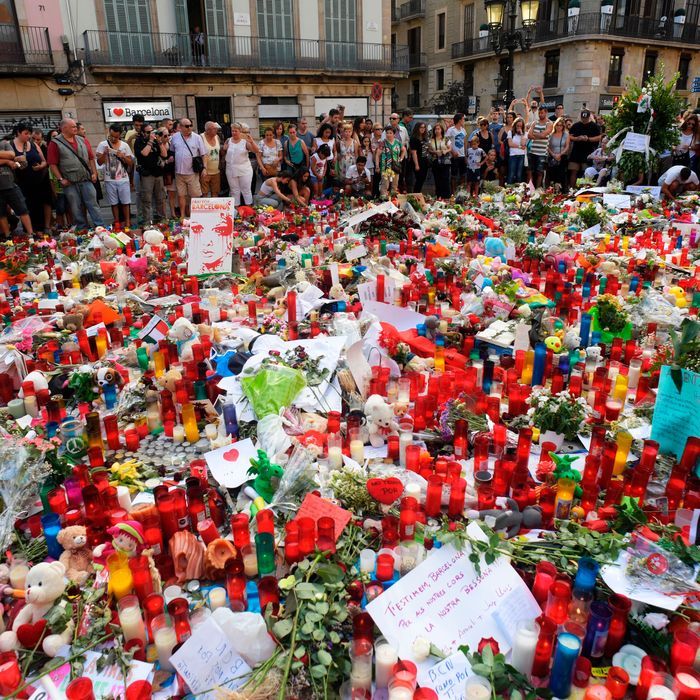 People stand next to a massive memorial set up on Las Ramblas boulevard in Barcelona.
Photo: Javier Soriano/AFP/Getty Images
Authorities in Spain believe that the terrorist cell responsible for last week's vehicle attacks in the country's Catalonia region was planning a much larger and more deadly attack. That conclusion followed the discovery of a bomb factory operated by the group, including a cache of more than 120 gas canisters and other bomb-making materials. Whatever target or targets the cell was planning to bomb, however, the terrorists' plans were thwarted when their bomb cache exploded prematurely on Wednesday, destroying a house in the Spanish beach town of Alcanar. A manhunt is still under way for one of the suspects, but it seems that the other members of the cell have either been killed or apprehended.
13 people were killed and dozens more injured when a terrorist driving a rented van plowed through pedestrians on Las Ramblas in Barcelona on Thursday. Another person was later killed in a second vehicle-ramming attack staged early Friday in the seaside town of Cambrils, 70 miles south of Barcelona. Five suspected terrorists were shot and killed by police during that attack. ISIS later claimed responsibility for the attacks, but their involvement has not been confirmed.
Spanish authorities say the terrorist cell comprised 12 mostly young men of Moroccan origin, some of whom were teenagers. None of the men had any known links to Islamic extremist groups, but the cell seems to have been planning attacks for at least the last six months. Four of the suspected terrorists have been arrested, and another two are missing, but were probably killed in the house explosion in Alcanar. Two bodies were recovered from that blast, but have yet to be identified. One man who was injured in the explosion, which authorities originally thought was the result of some kind of gas accident, is among those who were arrested. In addition to the more than a hundred gas canisters discovered at the scene, traces of TATP, a homemade explosive regularly used in ISIS-linked attacks, were also found in the rubble.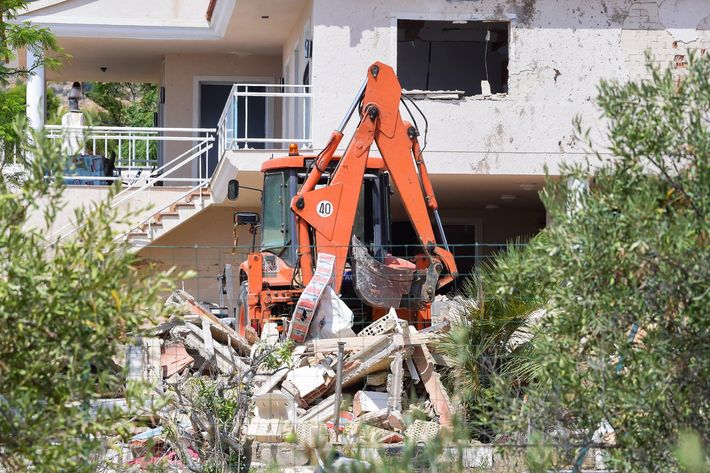 Spanish authorities say that the terrorist cell has been neutralized, but a manhunt is still under way for a 22-year-old man, Younes Abauyaaqoub, who may have been the driver in the Barcelona attack. Some 800 checkpoints have been set up in an attempt to apprehend him, but it's also possible he has left the country by crossing into France. On Saturday, Abauyaaqoub's mother begged her son to turn himself in during an appearance on Spanish television. On Sunday, her family members reported that she had since been hospitalized on account of the stress.
So far, authorities theorize that the cell's original plan was to conduct an attack or series of attacks using three rented vans, a motorcycle, and the Audi used in the Cambrils attack — likely by loading the vehicles with bombs and then targeting Barcelona. That larger plan then had to be abandoned when the bomb cache exploded on Wednesday, and one of the rented vans was instead used in the vehicle-ramming attack on Las Ramblas the following day. The other two rented vans were later found in the towns of Ripoll and Vic.
Media reports that the cell's plan had been to strike the Sagrada Familia cathedral have not been confirmed, but as one of Barcelona's most iconic landmarks and biggest tourist destinations, it would obviously be a logical choice for any large-scale attack on the city.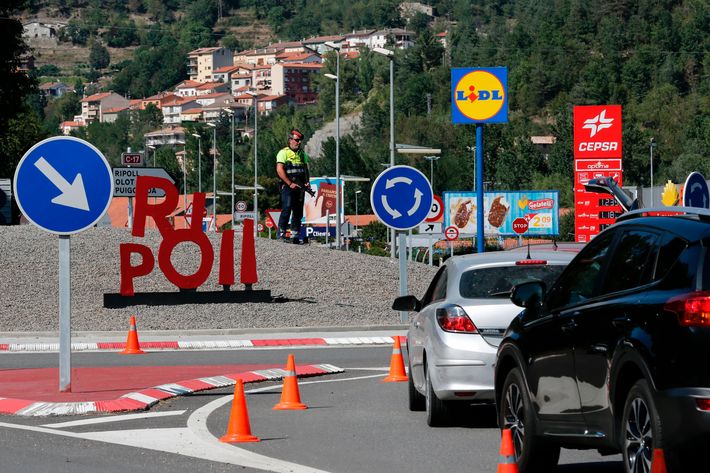 It seems that many of the suspects were childhood friends, and some were so young they still lived with their parents. At least five lived in or near the town of Ripoll in the Pyrenees mountains, and one working theory is that they were radicalized by a local imam, 45-year-old Abdelbaki Es Satty, who may have been the leader of the cell, and is believed to be one of the two suspects killed in the house explosion. Es Satty had spent four years in prison on drug charges; while incarcerated, he may have become friends with one of the men connected to the 2004 train bombings in Madrid, which were the last major terrorist attack in Spain. The cleric had supposedly left Ripoll in July after requesting a few months off from the mosque where he worked.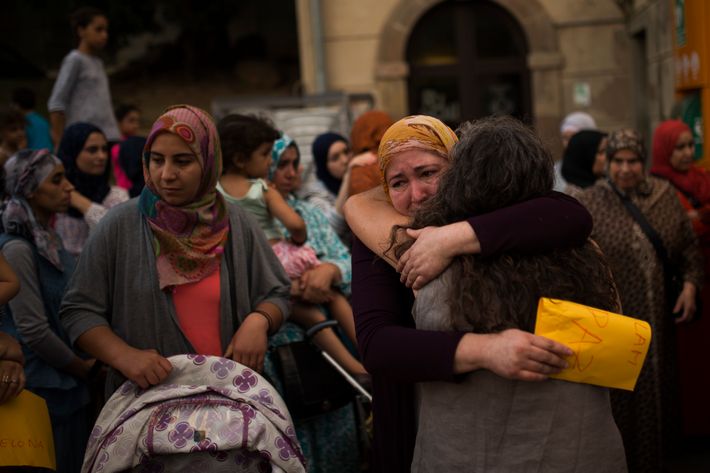 Family members of the suspected terrorists, as well as others in their small, close-knit communities, have been speaking to the media and expressing shock over the news of the young men's involvement in the cell. "Someone brainwashed them," Younes Abauyaaqoub's aunt told the Washington Post. "This has destroyed our family. We are devastated. We don't understand what happened."
Authorities seem baffled too. It's unclear how what was essentially a group of local kids from the region could have been radicalized, and have kept their plots secret, in the small-town communities in which they lived. And that disbelief is why many suspect someone like Abdelbaki Es Satty, the much older imam, may be to blame — though no one seems to have suspected him, either.
Carles Puigdemont, the president of Catalonia, defended the region's Moroccan population against any notions of xenophobia when speaking with the media on Sunday, insisting that the region's roughly 200,000 residents of Moroccan descent are well integrated and "have made important contributions to the community." Indeed, Catalonia is home to the largest population of Muslims in Spain, and unlike most of Europe, a significant number have lived there for centuries. On Sunday, thousands of local Muslims marched on Las Ramblas to protest against terrorism. In Barcelona, the overwhelming response to the attacks seems to have been one of unity, at least for the time being, though the city — and country — is clearly and understandably still on edge.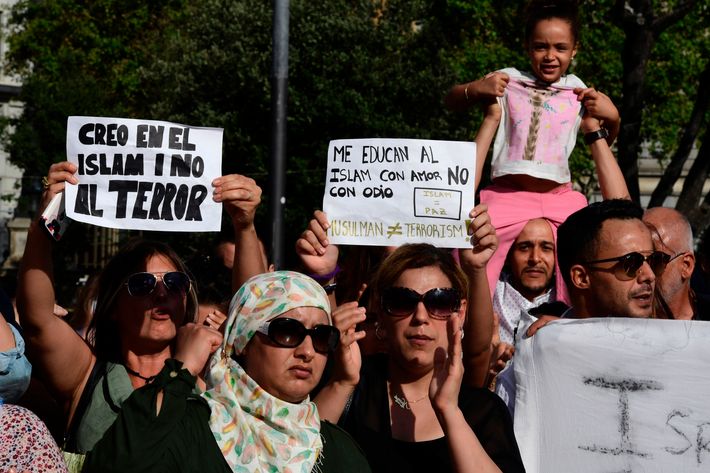 Also on Sunday, a large memorial mass was held at Sagrada Familia cathedral for the victims of the attacks, and it was attended by Spain's King Felipe and Queen Letizia, as well as the country's prime minister and many other officials. Those killed in the attacks included citizens of at least nine countries, including an American, 43-year-old Jared Tucker, who was killed on Las Ramblas while in Barcelona for his honeymoon. The victims otherwise ranged in age from as young as 3 to as old as 80. The latest victim to be identified on Sunday was a 7-year-old British-Australian boy named Julian Cadman, who was reported missing after becoming separated from his family in the chaos on Las Ramblas.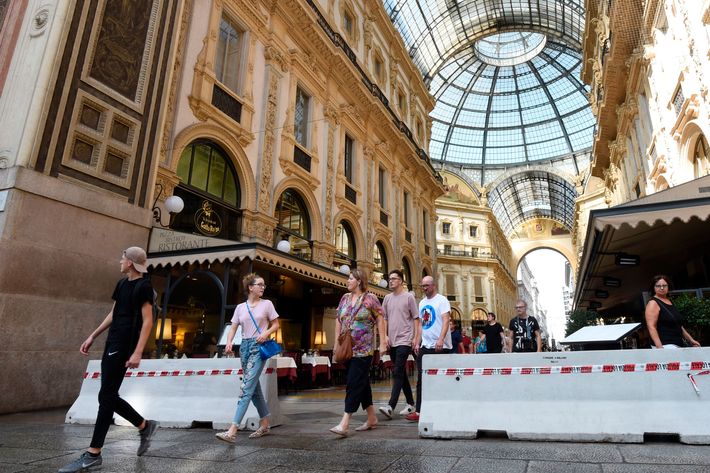 Elsewhere in Europe, cities like Milan and Florence are responding to the events in Spain in the most practical way possible: by installing more concrete barriers around pedestrian areas in an effort to prevent and discourage similar vehicle attacks. Spanish authorities were criticized on Friday for not already having barriers or bollards installed around Las Ramblas. After all, last week was far from the first time that terrorists have used vehicles to launch ramming attacks against large groups of people in Europe. Before last week, attempts to protect pedestrians in Barcelona and Madrid with concrete barriers were only event-focused and temporary. Since Thursday, however, towns throughout Spain have been quickly erecting the barriers around popular walkways.
After the significant vehicle attacks in Nice, Berlin, and now Barcelona, it seems inevitable that such barriers will finally become a ubiquitous part of life in many, if not most, European cities.