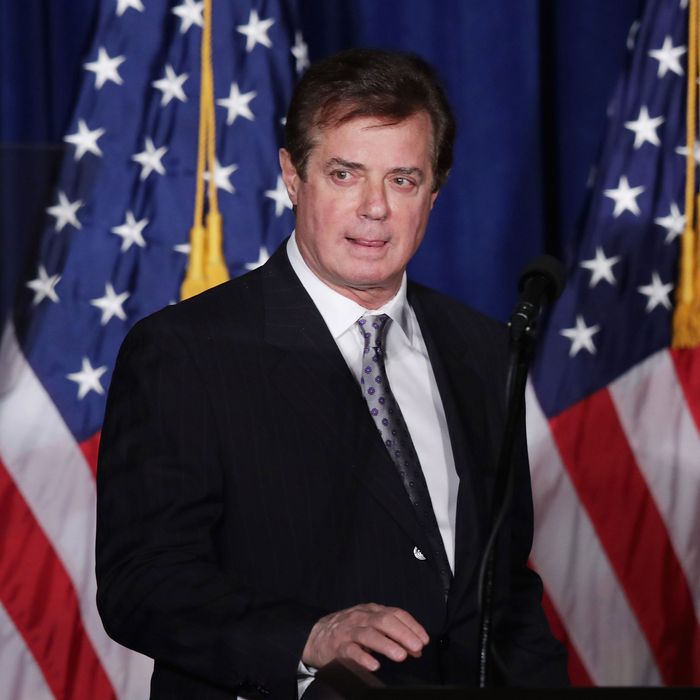 This is fine.
Photo: Chip Somodevilla/Getty Images
On the morning of July 26, President Trump publicly reprimanded his attorney general for failing to fire the acting FBI director, and summarily banned transgender Americans from serving in the military, over Twitter.
Hours earlier, in Alexandria, Virginia, FBI agents had marched into the home of Trump's former campaign manager. The raid began in the predawn hours, one day after Paul Manafort had met with the staff of the Senate Intelligence Committee. Manafort had been voluntarily producing documents to congressional committees, but special counsel Robert Mueller (apparently) lacked confidence that the operative would turn over every piece of paper his team of investigators was interested in perusing. And so the FBI secured a "wide-ranging" search warrant, and confiscated "various records" from Manafort's home, according to the Washington Post.
Manafort's spokesperson confirmed the raid Wednesday, telling NBC News that his client "has consistently cooperated with law enforcement" and "did so on this occasion as well."
The investigators were specifically seeking "tax documents and foreign banking records," according to the New York Times. The paper notes that the FBI "typically seeks such records when investigating violations of the federal Bank Secrecy Act, which requires Americans to report their foreign banking accounts." Manafort has leased his political know-how to a wide array of corrupt foreign leaders, including former Ukrainian president (and Putin ally) Viktor Yanukovych.
It's unclear whether the records taken from Manfort's home proved significant. Regardless, the raid itself certainly is.
Sending out subpoenas does not require investigators to establish probable cause of a crime — but obtaining a search warrant does. Which is to say: Mueller's team apparently possessed enough information to convince a judge that a search of Manafort's home would quite likely turn up evidence of criminal activity.
The raid may also provide insight into the broader strategy of Mueller's investigation into ties between the Trump campaign and the Russian government. Or, so Manafort's team fears, according to the Post:
Manafort's allies fear that Mueller hopes to build a case against Manafort unrelated to the 2016 campaign, in hopes that the former campaign operative would provide information against others in Trump's inner circle in exchange for lessening his own legal exposure.
Such a gambit would explain why Mueller would resort to raiding Manafort's home, when the political operative was already cooperating with the Russia investigation: Congress wasn't going to ask Manafort to turn over evidence that he violated the Bank Secrecy Act, years before Trump ever ran for president (and Manafort wasn't going to honor such a request, if it did).
Last month, the New York Times revealed that Manafort, Donald Trump Jr., and Jared Kushner attended a meeting in Trump Tower that was pitched to them as an opportunity to receive opposition research on Hillary Clinton, as "part of Russia and its government's support for Mr. Trump."