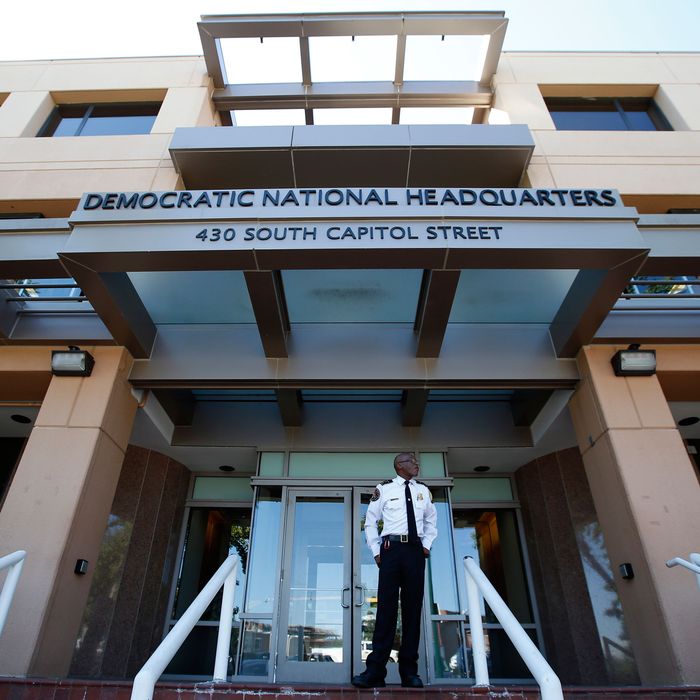 Yesterday, The Nation published an article by journalist Patrick Lawrence purporting to demonstrate that last summer's pivotal DNC hack was, in fact, an inside job. Maybe unsurprisingly, it's proven especially popular among people who hold it as an article of political faith that the Russian government and intelligence services played no role in the theft and publication of a cache of emails from DNC staffers:
Conclusive proof, or even strong evidence, that the DNC emails were leaked by an insider and not by Russian-sponsored hackers would indeed be a huge story — among other things, it would contradict the near-unanimous opinion of U.S. intelligence agencies, and raise some very serious questions about their objectivity and neutrality.
But this article is neither conclusive proof nor strong evidence. It's the extremely long-winded product of a crank, and it's been getting attention only because it appears in a respected left-wing publication like The Nation. Anyone hoping to read it for careful reporting and clear explanation is going to come away disappointed, however.
If you want to get to the actual claims being made, you'll have to skip the first 1,000 or so words, which mostly consist of breathtakingly elaborate throat-clearing. ("[H]ouses built on sand and made of cards are bound to collapse, and there can be no surprise that the one resting atop the 'hack theory,' as we can call the prevailing wisdom on the DNC events, appears to be in the process of doing so.") About halfway through, you get to the crux of the article: A report, made by an anonymous analyst calling himself "Forensicator," on the "metadata" of "locked files" leaked by the hacker Guccifer 2.0.
This should, already, set off alarm bells: An anonymous analyst is claiming to have analyzed the "metadata" of "locked files" that only this analyst had access to? Still, if I'm understanding it correctly, Lawrence's central argument (which, again, rests on the belief that Forensicator's claims about "metadata" are meaningful and correct) is that the initial data transfer from the DNC occurred at speeds impossible via the internet. Instead, he and a few retired intel-community members and some pseudonymous bloggers believe the data was transferred to a USB stick, making the infiltration a leak from someone inside the DNC, not a hack.
The crux of the whole thing — the opening argument — rests on the fact that, according to "metadata," the data was transferred at about 22 megabytes per second, which Lawrence and Forensicator claim is much too fast to have been undertaken over an internet connection. (Most connection speeds are measured at megabits per second, not megabytes; 22 megabytes per second is 176 megabits per second.) Most households don't get internet speeds that high, but enterprise operations, like the DNC — or, uh, the FSB — would have access to a higher but certainly not unattainable speed like that.
If that's your strongest evidence, your argument is already in trouble. But the real problem isn't that there's a bizarre claim about internet speed that doesn't hold up to scrutiny. It's that Lawrence is writing in techno-gibberish that falls apart under even the slightest scrutiny. You could try to go on, but to what end? As an example: Lawrence writes that "researchers penetrated what Folden calls Guccifer's top layer of metadata and analyzed what was in the layers beneath." What on earth is that supposed to mean? We don't know what "metadata" we're talking about, or why it comes in "layers," and all I'm left with is the distinct impression that Lawrence doesn't either. Even if you wanted to take this seriously enough to engage with, you can't, because it only intermittently makes sense. There may be evidence out there, somewhere, that a vast conspiracy theory has taken place to cover up a leak and blame Russia. But it's going to need to be at least comprehensible.