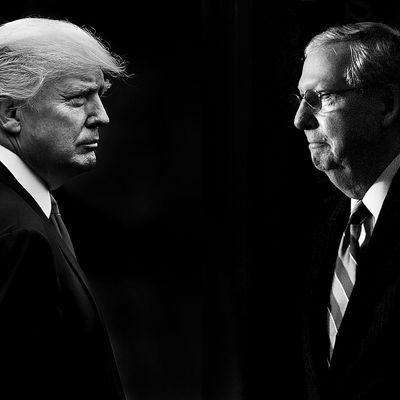 These two powerful pols are at odds precisely when they need to be cooperating.
Photo-Illustration: Daily Intelligencer; Photo: Getty Images
It's been obvious for a while that Donald Trump and Mitch McConnell are going through a rough patch in their political and personal relationship. The president has repeatedly scolded McConnell for the Senate GOP's failure to enact health-care legislation and for insisting on maintaining occasionally inconvenient traditions like the legislative filibuster. McConnell has been more circumspect, but he has let it be known he thinks Trump is ignorant about the legislative process.
According to an extensive report today in the New York Times, the bad vibes between Trump and McConnell are worse than previously realized, so bad that they amount to a "cold war":
The relationship between President Trump and Senator Mitch McConnell, the majority leader, has disintegrated to the point that they have not spoken to each other in weeks, and Mr. McConnell has privately expressed uncertainty that Mr. Trump will be able to salvage his administration after a series of summer crises.




What was once an uneasy governing alliance has curdled into a feud of mutual resentment and sometimes outright hostility.
It seems that the president personally berated McConnell the last time they did talk, on August 9, repeating his complaints about the Senate and about the mild criticism its leader aimed at him. And the two pols have been carrying out a proxy war via Trump's attacks on, and McConnell's vigorous support for, Republican senators who have disrespected POTUS, notably Arizona Senator Jeff Flake, who recently published a book that rejected Trump's claim to be a legitimate conservative. McConnell was less than supportive of Trump's temper tantrum on Charlottesville, too, perhaps in part for a reason many observers missed:
The issue may also be more personal for McConnell, whose Taiwan-born wife, Transportation Secretary Elaine Chao, was beside Trump as his infrastructure news conference Tuesday erupted in a fiery defense of some of those marching Saturday.
For her part, poor Chao has responded to questions about the feud between her husband and her boss with this immortal line: "I stand by my man — both of them."
Whether or not Chao is in a position to act as a go-between, there are obviously many channels of indirect communication between the White House and the Senate leadership, beginning with the ex officio president of the Senate Mike Pence. But the lack of mutual trust — and even respect — cannot be a good thing in the run-up to a month in which the stakes are so high: federal government shutdown, debt default, and the failure of major budget, tax, health-care, and, perhaps, immigration legislation are all possible if Republicans aren't in more harmony than they were when Trumpcare hit the skids in the Senate.
If nothing else, the "cold war" between Trump and McConnell could lead both men to a decision to go it alone at times when cooperation is essential to GOP goals. And this could go on for some time: Thanks to an absurdly positive Senate landscape for 2018, McConnell is very unlikely to lose his gavel anytime soon. And some of the worse Senate–White House friction could be just around the bend if McConnell and his committee chairs continue to ignore the White House's increasingly urgent signals that they back off any investigation of Russian interference with U.S. elections.
Right now, about the only cause Trump and McConnell are united under is Alabama senator Luther Strange's candidacy. And they could both turn out to be losers on that front if Judge Roy Moore holds onto his lead over Strange until a September 26 runoff. By then, of course, the president and the Senate majority leader could have bigger problems as all sorts of legislative chickens come home to roost, even as they glare at each other from opposite ends of Pennsylvania Avenue.