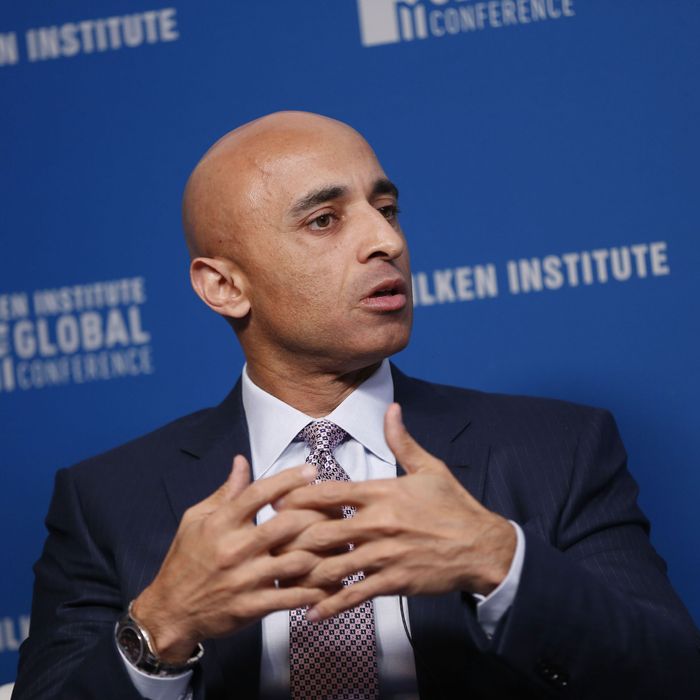 Yousef al-Otaiba.
Photo: Patrick T. Fallon/Bloomberg via Getty Images
Yousef al-Otaiba, the U.A.E. ambassador to the United States, is an extremely influential man in Washington, D.C. With the deep pockets of his oil-rich nation at his disposal, Otaiba pays exorbitant fees to think tanks who advance the U.A.E.'s interests and throws lavish parties to curry favor with some of the government's powerful people. He also, as a bombshell investigation in the Intercept lays out, has a history of hard partying, connections to sex-trafficking, and an apparent lie in his official biography about graduating from Georgetown.
Oh, and as of January 21, 2017, he has a good friend in the White House too. President Trump's son-in-law and White House senior adviser Jared Kushner only met Otaiba last year, after being introduced by billionaire Trump supporter Tom Barrack, but as Politico reported in February, the two are "in almost constant phone and email contact."
The Intercept and reporter Ryan Grim have previously reported on Otaiba's influence in Washington, where he's gained a reputation as a power player who sends journalists iPads for Christmas and takes long meetings with senators. "I've spent probably more time with Yousef than I have anybody," Senator Richard Burr told the Huffington Post.
But this latest report, which relies in part on hacked emails, delves into the often salacious details of Otaiba's private life. There was, for example, the trip to Las Vegas that Otaiba and his friends planned over email. After checking with his boss, the crown prince of Abu Dhabi, Otaiba emailed a group of friends that the trip was on and asked, "Is my diplomatic immunity valid in Vegas?" A friend replied with a contract they could bring along on the trip:
"I, (insert name of dumb girl), agree to let (insert name of one of us filthbags) hit it. I (insert dumb broad's name again — if her drunk ass can remember it), am at least 18 years old. Signed (little chicks signature).




Everything is nice and legal…. :)"
This story is about more than gross emails though. One former member of Otaiba's inner circle told the Intercept that women, some of them employees of Washington strip clubs and others escorts in the U.A.E., were always around. Over time he became concerned that some were victims of sex trafficking. "You can't say that [Otaiba] is a human trafficker — he's not. But some of the girls I was sent over there were trafficked girls," Roman Paschal said. Other emails showed Otaiba's extensive relationship with a Washington madam, who offered to send "girls" to him "in your country or wait until you are in the U.S."
The most sordid stories of Otaiba's past appear to have taken place a decade ago. He's now married and has at least one child, so while this prurient stuff is fun, it's not the most significant thing about him. After all, this is the ambassador from a country that supports a hawkish line against Iran and is accused of human rights abuses in Yemen, who happens to have influence over Jared Kushner, the man responsible for forging peace in the Middle East.