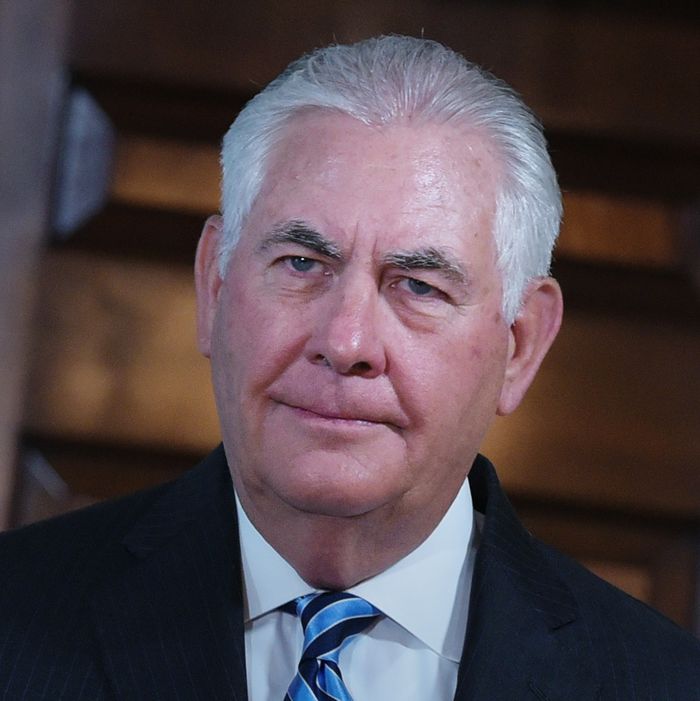 The reluctant secretary of State.
Photo: MANDEL NGAN/AFP/Getty Images
It's hard to recall any cabinet official who's been less enthusiastic about their position than Secretary of State Rex Tillerson. He's admitted that his wife had to talk him into taking the job, and when his office made the odd announcement late last month that he was "taking a little time off," many took that as a sign that he was on the verge of quitting. CNN reported that while Tillerson had planned to stay on at least through the end of the year, President Trump's public attacks on Attorney General Jeff Sessions might have changed things:
But two sources who spoke to CNN on condition of anonymity over the weekend said they would not be surprised if there was a "Rexit" from Foggy Bottom sooner that that.




Both of these sources are familiar with Tillerson conversations with friends outside Washington. Both said there was a noticeable increase in the secretary's frustration and his doubts that the tug-of-war with the White House would subside anytime soon. They also acknowledged it could have been venting after a tough week, a suggestion several DC-based sources made when asked if they saw evidence Tillerson was looking for an exit strategy.
Tillerson's senior aide R.C. Hammond quickly denied the story, telling BuzzFeed, "As long as there are rogue regimes pursuing nuclear weapons or terrorists seeking safe haven the secretary will remain on the job."
Two weeks later, it appears Tillerson has scored a rare victory. Over the weekend, the United Nations Security Council unanimously approved a U.S.-drafted resolution that strengthens sanctions on North Korea. In addition to scoring a diplomatic win, Politico reported that the State Department managed to get the White House to hold off on announcing that it would open a trade investigation targeting China.
But serious questions remain about Tillerson's goals for the State Department, and his commitment to sticking around to see them carried out. It's not that surprising that someone with no foreign-policy experience is struggling to show leadership on the world stage. But presumably the former chief executive of Exxon Mobil would at least be able to use his management skills to make the State Department — which is known to have a bloated bureaucracy — run more smoothly. Yet the New York Times reported on Sunday that many diplomats feel he's only making the problem worse.
Shortly after his arrival, Tillerson launched an effort to reorganize the State Department, hiring two consulting companies and forming five committees to come up with a plan. Hammond, Tillerson's spokesman, said the effort has been slow because they keep discovering new issues that previous secretaries failed to address. "What we are discovering is that there are a series of problems that have been neglected and ignored," Hammond said. "And they are causing larger problems that can be fixed if things are vetted properly and installed."
But the Times reports that Tillerson's focus on reorganization has left the department in a state of paralysis. Many career officials are leaving the State Department, and thanks to the hiring freeze Tillerson instituted, talented young people haven't been recruited to take their place. Tillerson has yet to nominate anyone to fill most of the State Department's 38 highest-ranking positions, leading to a lack of direction in many departments. Plus, Tillerson and his small group of aides have reportedly taken to micromanaging relatively minor decisions, like rewriting greetings issued to foreign nations and reviewing the hiring of diplomats' spouses in dangerous regions, which is a common practice to encourage diplomats to take positions in places like Afghanistan and Iraq.
"The secretary of state has to focus on the president, his policies and the other heads of government that he deals with, which means he cannot possibly run the department operationally himself," R. Nicholas Burns, who was an under secretary of State for President George W. Bush, told the Times. "He has to delegate, and that's what's missing now."
Tillerson's duty to "focus on the president" may be the root of the problem. According to previous reports, the White House vetoed many of the names Tillerson suggested for top positions. Plus, President Trump often touts his son-in-law Jared Kushner's dubious foreign-policy expertise, yet rarely mentions Tillerson.
In a recent Foreign Policy piece, Derek Chollet considers the possible explanations for Tillerson's ineffectiveness, from a genuine belief that a slow and thorough reform is necessary to his distaste for the job. Then there's the idea that all is going according to Trump's plan:
Watching Tillerson's first six months, one wonders whether Trump picked him as a way to diminish the State Department, similar to how Richard Nixon chose William Rogers for the express purpose of ensuring that the department remained weak. As Henry Kissinger recalled of Rogers, "few secretaries of state can have been selected because of their president's confidence in their ignorance of foreign policy."
Chollet concludes that the president is "not that clever," but he's certainly provided little incentive for Tillerson to work to maintain a robust State Department.