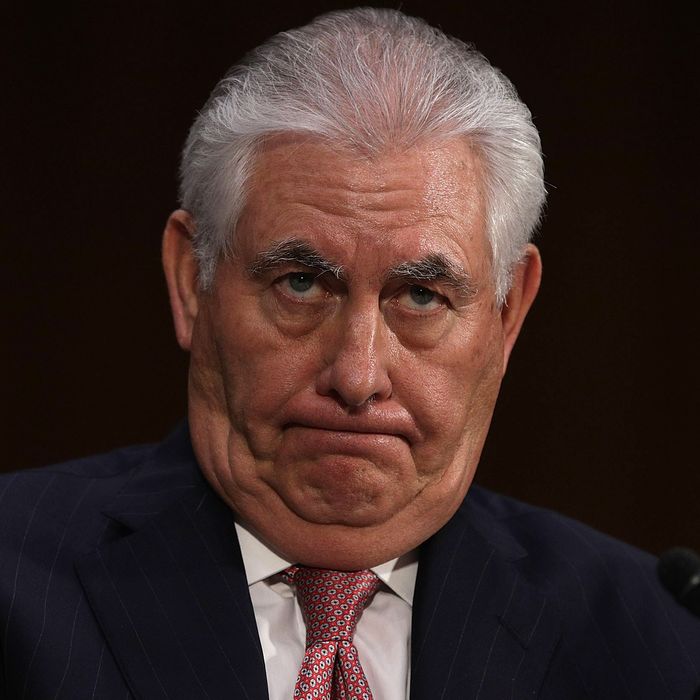 Rex doesn't seem very happy.
Photo: Alex Wong/Getty Images
Appearing on Fox News Sunday With Chris Wallace, Secretary of State Rex Tillerson said that President Trump "speaks for himself" on American values, in what appeared to be a rebuke to his boss.
In a discussion about the president's roundly condemned response to the violence in Charlottesville, Tillerson affirmed that the State Department represents American values.
Wallace said, "When the president gets into the kind of controversy he does and the U.N. committee responds the way it does, it seems … they begin to doubt whether we're living those values."
Tillerson replied, "I don't believe anyone doubts the American people's values, or the commitment of the American government or the government's agencies to advancing those values and defending those values."
"And the president's values?" Wallace countered.
"The president speaks for himself, Chris," Tillerson responded.
After a pregnant silence, Wallace asked Tillerson if he was separating himself from the president. Tillerson dodged the question, but said, "I have made my own comments as to our values as well in a speech I gave to the State Department this past week."
Tillerson has been widely criticized as an ineffective leader at the State Department. His slowness to hire key staff, micromanagerial tendencies, and willingness to accede to White House–proposed cuts have left the department feeling rudderless, according to many accounts. The lack of direction has contributed to a high-level staff exodus, which continued on Friday with the departure of two more senior diplomats.
But the secretary of State has also been reported to be frustrated with Trump for undermining his mission, and there have also been rumors that Tillerson might be on the way out himself. Sunday's comments probably won't quell those murmurs.