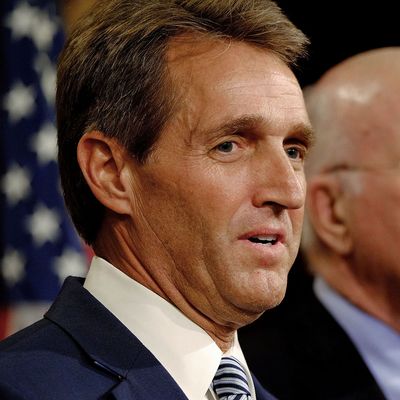 Flake.
Photo: T.J. Kirkpatrick/Getty Images
Jeff Flake has voted in line with President Trump's wishes 93.5 percent of the time. This statistic does not merely reflect the Arizona senator's conservative policy views: Flake voted to confirm a retired neurosurgeon with no experience in government or housing policy — who had recently declared himself unqualified to run a federal agency — as the head of Housing and Urban Development. He voted for the "skinny repeal" health-care bill, a piece of legislation so ill-designed that several of his conservative colleagues only voted for it on the understanding that it would never actually become law. And, Flake joined all his Republican colleagues in voting to make a man who had written "birther" blogs a federal judge.
Flake's fealty to Trump's agenda far outstrips what one would expect from a purple-state senator up for reelection in 2018. According to FiveThirtyEight's model, a lawmaker in Flake's position would typically vote with the president only 60.3 percent of the time.
But while Jeff Flake walks the walk of Trump sycophant, he emphatically refuses to talk the talk. The Arizona senator just released a book-length indictment of the Trump presidency, and his party's role in abetting it. He has condemned the birther movement that launched Trump's political career — and the apparent, taped confession to serial sexual assault that nearly ended it.
And since Trump is far more invested in advancing a flattering image of himself in the media than in enacting a policy vision, he has no qualms about jeopardizing one of his agenda's most loyal Senate supporters, by endorsing a primary challenge against Flake.
Apparently, one of the president's billionaire backers feels the same way. Robert Mercer, a patron of right-wing "populism" who believes that cats' lives are worth more than those of the poor, is contributing $300,000 to a super-PAC aligned with former state senator Kelli Ward, who hopes to knock off Flake in next year's GOP primary on the strength of her devotion to Donald Trump.
Trump once pledged to spend $10 million of his own money to unseat Flake. That was almost certainly a bluff. But the White House has met with Ward's campaign.
At the moment, Flake looks quite vulnerable. The number of voters who want their senator to publicly disparage the Republican president — while doing virtually everything in his power to advance that president's agenda — appears to be rather small. A recent poll found that he had the third-highest disapproval rating of any member of the Senate. And given the paucity of Democratic pick-up opportunities in the upper chamber next year, loads of liberal cash are bound to be thrown at Flake.
Still, the Arizona senator does enjoy the advantage of incumbency. If Trump and his allies actually manage to knock him off in the primary, the Democrats' prospects of stealing the seat will almost certainly improve.
The conflict between Flake and Trump is more rhetorical than substantive. But if the president's patrons keep plowing money into Ward's campaign, the Trump–Flake feud could have a substantial impact on our politics.