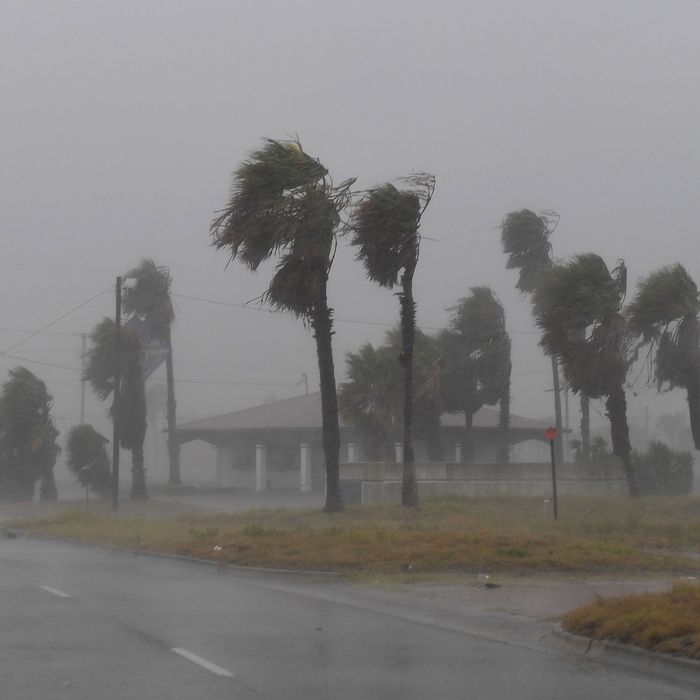 Harvey is here.
Photo: Mark Ralston/AFP/Getty Images
Texas is bracing for Hurricane Harvey. What began as a tropical storm Thursday morning has rapidly intensified, officially becoming a Category 4 hurricane Friday evening. The storm is now packing sustained winds of 130 miles per hour as it prepares to make landfall late Friday into early Saturday morning near Corpus Christi. More damaging than the winds will be the "catastrophic" rainfall, which may now reach up to 4o inches in some areas. Harvey will be the first hurricane to hit Texas since 2008, and its ferocity could make it the most powerful hurricane to hit the U.S. mainland in more than a decade. It is also shaping up to be the first major natural disaster on President Donald Trump's watch.
"It's going to be a very dangerous situation," FEMA director Brock Long, who was appointed in June, said Friday on MSNBC. "Let's set the expectations: Texas is about to have a very significant disaster. And we have to let people know that."
Harvey is now about 35 miles off Corpus Christi: Bands of rain are already pounding the shoreline, and parts of the Texas coastline are now dealing with sustained hurricane-force winds and rising storm surge. Harvey's winds of 130 mph have pushed it into the threshold of a Category 4 storm, but it's unlikely it will have time to strengthen to a Category 5 — a storm defined by winds above 156 miles per hour — before it makes landfall.
ABC News meteorologist Melissa Griffin said that if Harvey spends more time over the water, its strength could increase. "Harvey is expected to landfall around 1:00 a.m. Saturday, based on the current track," Griffin said. "If it had another day or two, it could be a higher category."
But the National Hurricane Center has been warning for days that Harvey will become a "major hurricane," bringing "life-threatening storm surge and freshwater flooding" to parts of Texas.
Harvey's biggest threat is "devastating" flooding from possibly huge amounts of rainfall. The National Hurricane Center is predicting rainfall totals between 15 and 35 inches near the middle and upper Texas coast, including places as far inland as Houston. Some isolated spots are at risk of getting 40 inches — more than three feet of rain — so places could see more than an entire year's worth of rain in less than a week. "Rainfall of this magnitude," NHC explains, "will cause catastrophic and life-threatening flooding."
This truly astonishing amount of rainfall is predicted, in part, because Harvey happens to be a very slow-moving storm. Once it makes landfall late Friday into early Saturday, it is basically just going to hang out or "meander" through southeastern Texas into the middle of next week. It will drench the lower part of the state with trillions of gallons of rainfall, likely clipping southwestern Louisiana, too. The flooding could also devastate cities a bit farther inland, and Houston — America's fourth-largest city — is now right in Harvey's path.
Harvey's extended stay is courtesy of very weak steering currents, which are the winds that normally help keep a system moving. But without them, Harvey stalls. So even though the hurricane may weaken onshore, the storm "would continue to funnel huge amounts of moisture into the southeast half of Texas," Weather Underground explains, adding, "Enormous rainfall totals would be a virtual certainty."
And based on some models, Harvey has the potential to make landfall not once, but twice. It will smack the Texas coast late Friday into Saturday and stick around through the weekend. Then it will head back into the Gulf, after which the storm will come back to wallop the region through Wednesday. The GFS model suggests Harvey could bide its time for an astounding eight days.
Hurricane and tropical-storm warnings and watches are in effect for dozens of counties, and a storm-surge watch and warning have also been issued for much of Texas's coast. The National Hurricane Center is forecasting significant storm-surge-related flooding "accentuated by powerful battering waves," between 6 and 12 feet, which could lead to "widespread deep inundation" and "structural damage to buildings, with many washing away." Harvey's arrival also brings with it the risk of isolated or scattered tornadoes in southeastern Texas.
Texas governor Greg Abbott preemptively declared a state of disaster in 30 counties along the Gulf Coast, and Louisiana governor John Bel Edward also issued an emergency declaration for the entire state on Thursday.
"It's a hurricane that's going to prove more dangerous than many hurricanes," Abbott said Friday at a press conference. "Not only are we going to be dealing with high winds that typically come with what should be a Category 3 hurricane, but we're going to be dealing with immense, really record-setting, flooding in multiple regions across the state of Texas."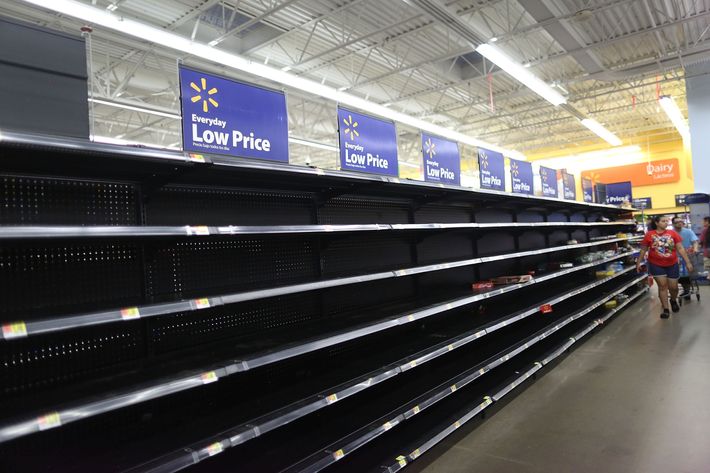 At a press conference on Thursday afternoon, Corpus Christi mayor Joe McComb also urged residents in low-lying areas to "get out of Dodge," saying flooding alone could leave them cut off from electricity and clean water. All seven coastal counties from Corpus Christi to Galveston Island ordered mandatory evacuations for residents in low-lying areas, and that directive was extended to dozens more counties by Friday, along with voluntary evacuations in a handful of other areas. "People have the option of evacuating now," W. Nim Kidd, the chief of the Texas Division of Emergency Management told CNN this morning. "That window is closing rapidly. I urge them to evacuate."
That window is now closed, with residents urged to get out by noon Friday or risk getting trapped. Tens of thousands did heed those orders. Any who stayed are already beginning to ride out Harvey's wrath across parts of the Texas coastline. Rain is pouring down, and the storm has not even made landfall yet.
Tropical-storm-force winds are blowing through, with gusts reaching around 70 miles per hour in Corpus Christi. Storm surge is also rising, reaching one to two feet in Corpus Christi and Port Aransas. Power outages have been reported in Corpus Christi, and the city's police department will only respond to emergency calls if conditions allow.
As Harvey bears down on Texas, President Trump has said he is "closely watching the path and doings" of the hurricane.
Administration officials said they have been preparing for hurricane season for months, but there are still vacancies at the top of the National Oceanic and Atmospheric Administration (NOAA) and the Department of Homeland Security, which oversees the Federal Emergency Management Agency and the U.S. Coast Guard. Elaine Duke, deputy to former Homeland Security Secretary John Kelly, has been acting secretary since Kelly was tapped to be White House chief of staff.
"There's certainly someone at the helm," White House Press Secretary Sarah Huckabee Sanders said on Thursday. "And again, I think that we are in great shape having General Kelly sitting next to the president throughout this process, and probably no better chief of staff for the president during the hurricane season."
Many of Trump's assurances to the Texas region have come via social media. On Thursday, he began by tweeting out a video urging people in Harvey's path to prepare. Trump followed up with a few more tweets on Friday, including one that he had been briefed by a team that included FEMA director Long, Duke, Kelly, and Homeland Security advisor Tom Bossert, who worked at FEMA under President George W. Bush.
Abbott sent a letter to President Trump on Friday, urging him to issue a preemptive emergency declaration, which would immediately free up relief funds. "The storm surge, coupled with the deluge of rain, could easily lead to billions of dollars of property damage and almost certainly loss of life," Abbott wrote to Trump.
The president has not yet issued a disaster declaration, but Bossert later told reporters Friday that Trump is seriously considering it. He also extolled Trump's preparedness for the monster storm. "This is right up President Trump's alley," he said. "Not only has he shown leadership here, but his entire focus has been on making America great again. He is focused on the Americans that voted him into office, he's focused on the Americans that didn't vote him into office. He's focused on effecting positive change in this country, and when we go in and brief him on the preparations for this hurricane, he is acutely focused on making sure … the American people in the storm's path have what they need."
Sanders also said at the briefing Friday that Trump may visit Texas next week after the storm hits.
And Trump wished everyone in Texas "good luck" before he took off for Camp David for the weekend. Vice-President Mike Pence, who was scheduled to be in Nevada, will instead hunker down in the White House to coordinate with Trump on the response to Harvey.
But Harvey's forecast has become increasingly menacing, and many experts are expressing worry that the Texas coastline and some cities inland will not be prepared for the onslaught of torrential rains and devastating floods — and that the recovery time may well be measured in months, if not years. "In terms of economic impact, Harvey will probably be on par with Hurricane Katrina," University of Miami senior hurricane researcher Brian McNoldy told the Associated Press. "The Houston area and Corpus Christi are going to be a mess for a long time."
An economic catastrophe could have ripple effects across the U.S., with Harvey potentially slamming refineries in Corpus Christi and Houston — the latter is a particular worry because its port is the backbone of the oil-and-gas industry. The storm will also pass over at least 3,000 active oil rigs, though most companies have shut down production and have evacuated, according to the Houston Press. "Hopefully this is a wake-up call, but this could become an absolute horror," Jim Blackburn, an environmental engineer at Rice University, told CBS News. "If we reach those levels, we could see the worst environmental disaster in United States history. And we'd probably shut down and cause a major gap in gasoline and jet fuel and other types of critical products' availability."
There are also fears that undocumented immigrants may not heed evacuation orders, as border checkpoints in the Rio Grande Valley will remain open, reports the Texas Tribune. (Previous administrations have done the same, including when Hurricane Dolly, a Category 1 storm, hit Texas in 2008.) But Bossert, in his press briefing, assured undocumented immigrants that they should not be fearful to go to shelters. A joint statement from Immigration and Customs Enforcement and Customs and Border Patrol said "routine non-criminal immigration enforcement will not be conducted" at shelters or other evacuation sites, but cautioned that "laws will not be suspended."
Harvey is already being compared to Tropical Storm Allison, a 2001 storm that surprised the Houston region with nearly three feet of rain. The disastrous floods that followed killed more than 20 people and caused nearly $5 billion in damage. Ike, in 2008, is the last hurricane to directly hit Texas; it was a Category 2 storm that devastated Galveston and ended up being one of the costliest in the country's history. And, terrifyingly, Harvey may soon join those ranks. "If the current forecast pans out," meteorologist Eric Holthaus wrote on Twitter, "Harvey could go down as one of the worst hurricanes in U.S. history."
This post has been updated throughout.