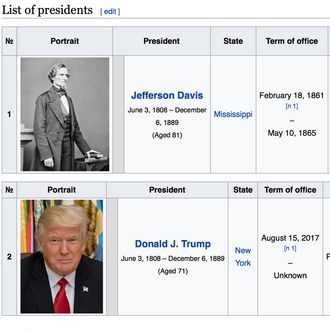 In a press conference earlier on Tuesday, Trump weighed in, again, on the white-supremacist terror attack in Charlottesville, Virginia. (In his first comments on the weekend's events, Trump blamed "hatred, bigotry, and violence … on many sides.") He blamed both the alt-right and the "alt-left" for Charlottesville, essentially saying the protestors — white-nationalists looking to save a statue of Confederate general, and famed slave-owner, Robert E. Lee — and the counterprotesters — uh, everybody else — were equally to blame.
"You had some very bad people in that group. But you also had some very fine people," Trump said. "You had people who were there to protest the taking down of, to them, a very, very important statue, and the renaming of a park from Robert E. Lee to another name." Following the remarks, somebody, as first spotted on Twitter by the Daily Beast's Ira Madison III, edited the Wikipedia page for the presidents of the Confederate States of America to include Trump. His "previous office" experience was listed as "never served in public office."
The edit was short-lived, though. (Much like that time somebody tweaked the Wikipedia page for invertebrates to include Paul Ryan.) The page has since been reedited to its original state, listing Jefferson Davis as the only president of the Confederate States. For now.