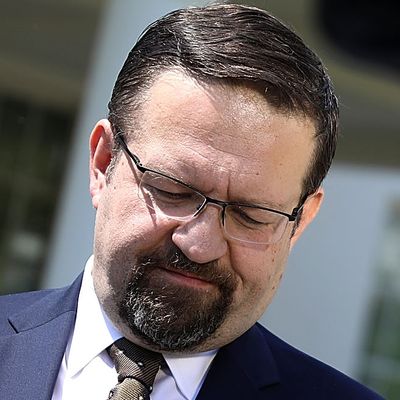 Gorka is going to need a new backdrop.
Photo: Chip Somodevilla/Getty Images
Controversial Trump adviser Sebastian Gorka has been forced from his role as a deputy assistant to the president, White House officials confirmed on Friday. According to his bridge-burning resignation letter, which he or someone close to him passed to the Federalist, Gorka decided to leave because "forces that do not support the MAGA promise are — for now — ascendent within the White House," and those in the administration who did want to "Make America Great Again" have been "internally countered, systematically removed, or undermined in recent months." Gorka had worked under former White House chief strategist Steve Bannon, and his departure or termination was widely expected following Bannon's ouster.
White House officials denied Gorka's version of his departure. Yahoo News reported that he only resigned after White House Chief of Staff John Kelly revoked Gorka's security clearance while he was on vacation; and a source told the New York Times that Kelly "telegraphed his lack of interest in keeping Mr. Gorka during internal discussions over the last week."
Gorka claimed in his resignation letter that he wanted to leave because, after observing recent changes at the White House, he realized that he could best serve President Trump as an outsider. But it remains unclear what Gorka actually did as an insider. The 46-year-old called himself an "internationally recognized authority on issues of national security, irregular warfare, terrorism and democratization," but that supposed expertise was widely questioned within the national-security community, and even his former Ph.D. adviser recently commented that, while Gorka was "knowledgeable" about terrorism, "his level of expertise does not match the level where he stands in the White House."
That level didn't include a spot on the National Security Council, and it's not at all clear that he served in any other official capacity, either. CNN reported last week that, when asked, the White House "refused to answer questions on what exactly Gorka does, whether he advises anyone, and whether he holds the security clearance needed to sit in on meetings involving terrorism."
Gorka, whose fringe criticism of Islam as an inherently violent religion is pretty much the definition of Islamophobia, also released a bestselling book last year called Defeating Jihad: The Winnable War. But critics have pointed out that Gorka does not speak Arabic, has not lived, worked, or even spent much time in the Middle East, and has extremely limited foreign policy or intelligence credentials. Instead, Gorka's primary experience seems to have been as a professor, questionable scholar, and right-wing media personality. Prior to joining the Trump campaign, Gorka worked as an international news editor at Breitbart under Bannon, and has been a regular pundit on television over the past few years.
On top of all that, Gorka, an American citizen who was born in the U.K. to Hungarian parents, had supported Hungarian ultra-nationalists and was reported to be a member of Hungary's far-right, Nazi-linked Vitézi Rend party. Gorka has denied that charge, but he wore a medal to President Trump's inauguration that was linked to the group (which he said he did in memory of his father's persecution under Hungary's former communist regime). Gorka was also one of the Trump-linked officials who has repeatedly downplayed the threat of right-wing extremism in the U.S., including the risk posed by white-supremacist hate groups like the ones who rallied in Charlottesville, Virginia, two weeks ago.
But while Gorka's contributions to the White House remain a mystery, he did reportedly make President Trump very happy as a combative surrogate for the administration on television. Gorka frequently used his media appearances to deride the media, and had a Trump-like tendency to make questionable or downright incendiary claims — like his suggestion that the recent bombing of a Minnesota mosque may have been a false-flag incident perpetrated by the left.
In the end, however, the substantial coverage of Gorka's often wild remarks probably made him seem more important than he ever really was inside the White House. And assuming he continues to make bombastic Trump-pleasing appearances on television, it may be as though he never left.