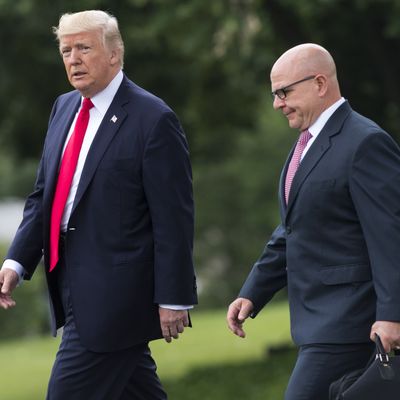 This odd couple remains together, for the time being.
Photo: Saul Loeb/AFP/Getty Images
President Trump and his son-in-law/senior adviser Jared Kushner are both pushing back on a widespread campaign to convince Trump to fire his national security adviser, H.R. McMaster. That campaign — which may include some top White House officials, but has primarily been conducted by nationalist, right-wing organizations and news sites — has sought revenge on McMaster for his ousting of four conservatives from Trump's national security council, as well as for his opposition to simply voiding President Obama's Iran nuclear deal without a backup plan. The #FireMcMaster campaign has proliferated on social media, too, including among Russian Twitter bots. As far as the anti-McMaster effort's chances, there had been reports that Trump was thinking about pulling McMaster from the NSC to put him in charge of the war in Afghanistan, but on Friday night, in a rare, clearly concerted effort for this White House, both the president and Kushner released statements expressing their support for McMaster.
"General McMaster and I are working very well together," Trump explained. "He is a good man and very pro-Israel. I am grateful for the work he continues to do serving our country."
A senior White House official also told the New York Times that McMaster still has Trump's "total confidence," but that shouldn't be taken very seriously. Trump appears to have total — and no — confidence in lots of people simultaneously, depending on the anonymous source and how the president feels about the latest cable-news coverage.
The reason Trump made the pro-Israel comment is because one of the lines of attack against McMaster has been that he is secretly anti-Israel. The former general has also been accused, without evidence, of leaking internal White House documents, of being a globalist, and of various other slights against Trump and his nationalist agenda. But for now, at least, the campaign has not been able to convince Trump that he should get rid of McMaster, nor has it convinced Kushner, who was a staunch ally of the latest official McMaster pushed out of the NSC: senior director for intelligence Ezra Cohen-Watnick. Here's what Kushner sent the Times on Friday:
General McMaster is a true public servant and a tremendous asset for the president and the administration. He has created and oversees a very thorough and clear process for the agencies to work together to give the president credible options to advance the president's priorities for America's foreign policy.
McMaster associates told the Times that they believe White House senior strategist Steve Bannon is behind the campaign to ax McMaster, and that's far from the first time that feud has come to light. Bannon was kicked off the NSC's principals committee soon after McMaster became national security adviser. There has also been hilariously extensive negative coverage of McMaster published by Breitbart News, Bannon's former media organization, and the two recently clashed in an awkwardly intense dispute over Afghanistan policy at the White House as well.
McMaster does, however, appear to have the support of new chief of staff and fellow general John Kelly. Politico reports that Kelly told McMaster this past week that he hopes he will stay on in his current role, and should continue to remake the staff of the NSC as he sees fit. Then again, no one who isn't related to the president is ever safe in this White House, and it seems clear that Trump remains antsy about McMaster, but that, for now at least, he is more fond of McMaster than he is of feeling forced to fire him.