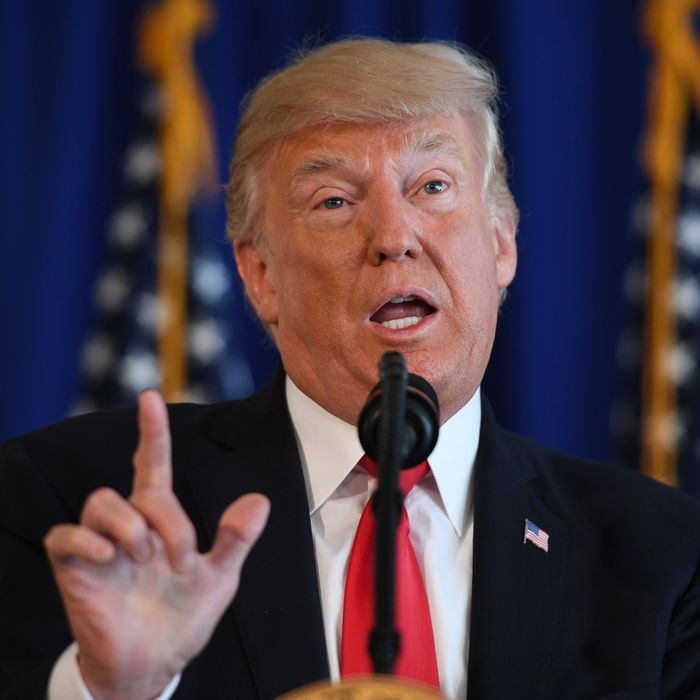 You'd think it would be easy to condemn neo-Nazis.
Photo: Jim Watson/AFP/Getty Images
In a statement delivered before a prescheduled veterans event, President Trump briefly addressed the horrific violence at a white-nationalist rally in Charlottesville, Virginia, on Saturday, which left at least one person dead and many more injured. But rather than clear the extremely low bar of denouncing neo-Nazis for causing mayhem and death, Trump took a different approach.
"We condemn in the strongest possible terms this egregious display of hatred, bigotry, and violence on many sides — on many sides," he said.
He distanced himself from the events by making it clear that such unrest is nothing new, offered a few words of tone-deaf pablum about coming together as a country, and blew a possible dog whistle at racists by calling on Americans to "cherish our history."
When a reporter shouted out a question about whether he wants the supports of white nationalists, the president ignored it.
After an immediate outcry on social media over Trump's "many sides" wording, a White House spokesperson confirmed that Trump meant what he said, since "there was violence between protestors and counter-protestors today."
Trump's mealy-mouthed statement came on the heels of two anodyne tweets that also failed to single out white nationalism:
At least one prominent alt-righter took Trump's statement to mean that he was including anti-fascist protestors in his condemnation:
During the 2016 campaign, Trump chose his words carefully when addressing the uncomfortable question of his immense popularity among bigots, exhibiting the kind of discretion notably missing from the rest of his life.
And as president, his administration has devoted significant attention to violence committed by Muslim extremists or immigrants, while all but ignoring white-supremacist acts of terror.
Given that Trump is generally held in high regard by the kind of people who attended the rally in Charlottesville — from David Duke to more run-of-the-mill Nazis — the president's resistance to disparaging white nationalism looks very convenient.